Advanced Analysis & Monitoring
Goal: higher process quality
The Fluid Analyzer monitors and documents the process-relevant parameters "concentration" – "pH value" – as well as "temperature". The goal: higher process quality.
If the defined limit values are exceeded, the customer and a FUCHS specialist can be automatically notified. This enables fast and targeted intervention in the coolant system: for efficient and stable processes.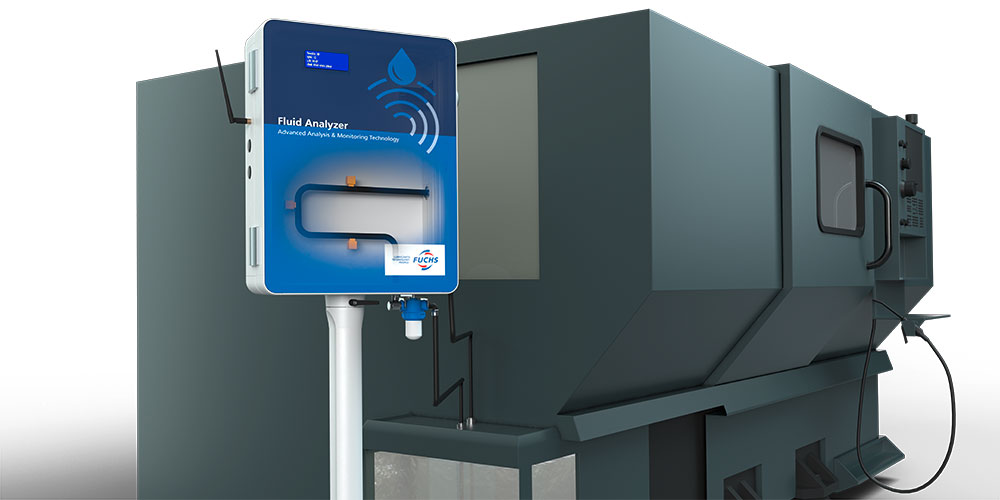 The continuous measurement of all important parameters of a water-miscible metalworking fluid, such as pH value, concentration and temperature by using digital flow monitoring, allows changes and thus impairments of the performance of a metalworking fluid to be detected at an early stage. Thus, for example, in the event of a drop in the pH value, it is possible to react on time and maintain the
operational capability.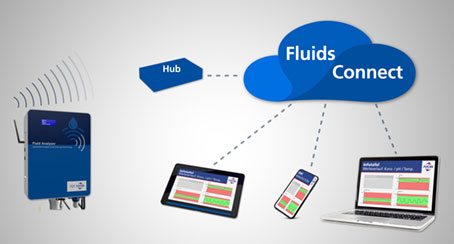 The FUCHS Fluid Analyzer can be quickly installed and connected to the machine tool. All measured values are continuously and safely sent in real time to the FUCHS FluidsConnect database (Cloud). The data can also be displayed on mobile devices (smartphone, tablet, laptop, etc.). If several machines are to be monitored simultaneously, additional Fluid Analyzers can be networked without any problems. All measured values can be retrieved from the FUCHS database and displayed via the FluidsConnect customer viewer.
The Fluid Analyzer from FUCHS for machine tools with water-miscible metalworking fluids offers you clear advantages:
Industry 4.0 – metalworking fluid monitoring
extended tool life
reduced costs for scrap/reworking
higher process stability, fewer interruptions
reduced unplanned maintenance time
maximization of metalworking fluid service life
lower costs for system cleaning or replacement
audit-proof continuous documentation
improved occupational health and safety