Tips for more efficient handling of cutting fluids
29.07.2019 - 12:00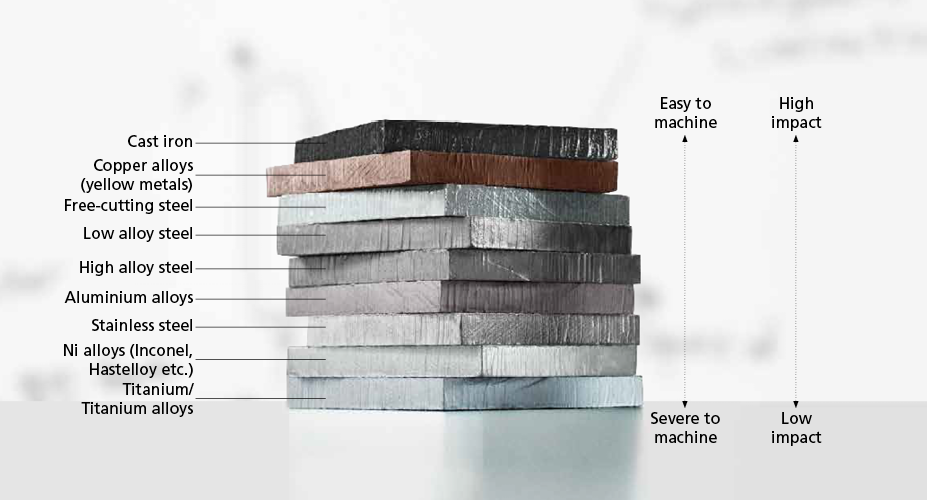 There are numerous benefits to be gained from streamlining the management of cutting fluids, everything from fewer unplanned stoppages to a longer service life for tools and machines. The following tips are aimed at keeping production at consistently high levels.
1. APPOINT A CUTTING FLUID MANAGER
This is crucial to ensure a functioning system, and reduces the risk of actions getting forgotten. A cutting fluid manager should:
Check the concentration in the systems.
Keep a logbook of concentration and pH values.
Take corrective action to maintain the fluid's properties.
2. LABEL THE MACHINES
If different cutting fluids are used for different types of machining, label each machine with the cutting fluid used in that machine. This will reduce the risk of using the incorrect product, which may compromise the cutting fluid's properties.
3. CHECK THE CONCENTRATION
The concentration of the cutting fluid must be kept at the recommended level if it is to work optimally. If the concentration is too high it will produce more mess, increase the risk of skin irritation and increase cutting fluid consumption. Too low a concentration could results in bacterial and fungal contamination, corrosion and poor lubrication, which reduces the life of the tools and cutting fluid.
It is therefore important to regularly measure the concentration, ideally daily, but at least once or twice a week. The concentration is measured either using a refractometer, which is easiest, or by titration. Adjust the concentration as required after measurement. A weaker concentration of approximately 1–2% should normally be used for topping up the system.
4. EVEN TOPPING UP OF CONCENTRATE/WATER
Top up with small amounts often to keep the concentration at an even, stable level. For best results, do this daily.
5. CHECK THE PH VALUE
It's important to keep an eye on the pH value. Most cutting fluids have a pH of 9 to 9.6, but there are also products that have a lower pH during use. In most cutting fluids, the pH should be at least 9.0. If the pH value decreases then the concentration is too low, or there is bacterial contamination. This can lead to corrosion problems and bad odours. Check the pH value daily if possible but at least once a week, by either using a pH meter or a pH indicator stick. Adjust low pH using a pH booster. See the image below.
6. MINIMISE TRAMP OIL USING SKIMMERS AND SEPARATORS
Tramp oil will contaminate the emulsion. This could be slide oil, corrosion inhibitor fluid, hydraulic oil or gear oil. Bacteria thrive in the boundary layer between the tramp oil and the emulsion, which is why tramp oil should be removed daily. No emulsion will cope with being covered by tramp oil for any long period of time.
Tramp oil content is measures as follows:
Concentration (refractometer) – Concentration (titration) = Tramp oil content.
Tramp oil is most easily removed using a skimmer or separator. It is also possible to roughly estimate the tramp oil content by measuring the free oil (visible oil level above the emulsion), although this method does not measure tramp oil that has already emulsified.
7. CONTINUOUS REMOVAL OF SWARF
Swarf and other particles must be removed by filtration. These impurities can reduce the life of the emulsion as they help to increase the growth of bacteria and fungi.
8. MINIMISE STOPPAGES IN THE SYSTEMS
When stoppages occur, raise the pH by 0.2–0.3 units. During longer periods of down time, such as the summer shutdown, a bactericide may also be needed. Circulate the system regularly, or air the system. An aquarium pump is adequate for small systems.
9. PLANNED FLUID CHANGES
Keeping an eye on the systems helps you avoid costly unplanned fluid changes.
10. ALWAYS USE A SYSTEM CLEANER WHEN CHANGING THE FLUID
A system cleaner is a water-soluble cleaner and dispersant for emulsions and solutions. System cleaners kill bacterial and fungal growth, and also loosen microbiological film and sludge. System cleaners are only used in connection with a change of emulsion, rather than for regular emulsion maintenance.
11. CHECK THE LUBRICATION WHEN BUYING MECHANICAL EQUIPMENT
Make sure that new machines are easy to lubricate. This means you will not have to remodel or buy expensive extra equipment for your new machinery – just because the manufacturer didn't make sure that lubrication and refilling the cutting fluid were nice and easy.
It may even be that the filtration is not up to scratch, or that the cutting fluid tanks have not been given enough space. Having to supplement your system with remodelling and extra equipment is a costly business. Avoid this problem by making the right demands in the procurement process, before you sign the order for new machines and systems. END
Find a metal lubricating lubricants for your product: https://bit.ly/2SxLBfg