FUCHS and JD.COM Strategic Partnership Agreement —— To Explore China's High-End Lubricants Market
15.05.2019 - 04:19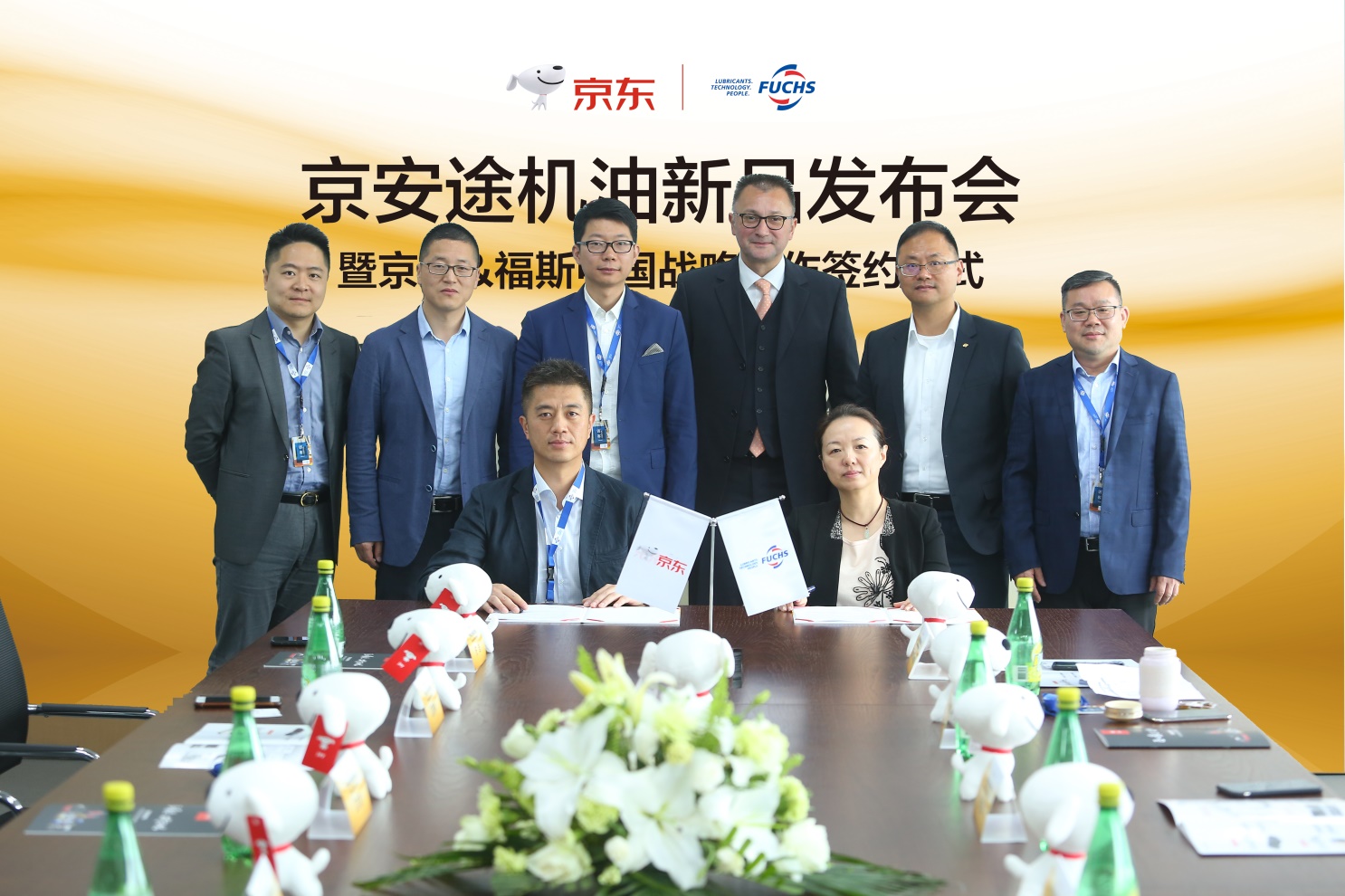 On May 8, FUCHS China and JD.COM signed a strategic partnership agreement at FUCHS China's Suzhou plant. Both parties will jointly explore China's high-end lubricants market and lead the upgrade of automobile aftermarket consumer experience through cooperation regarding JD.COM's "Jauto" proprietary brand in product lines, supply chain, technology, finance, and logistics, etc.
Leveraging its original automobile category proprietary brand Jauto, JD.COM focuses on technologies, works with industry leading manufacturers, and strictly controls quality and service in multiple aspects including technology R&D, production processes, quality standards, and post-sales service, etc. Its product lines mainly include lubricants, batteries, tires, wearing parts, automobile maintenance, equipment and tools, and other series. JD.COM is dedicated to connecting online and offline activities to provide consumers with high-quality products and refined services, thereby meeting consumers' personalized, diversified and multi-scenario needs, improving operation efficiency of the entire automobile product industry, and achieving sustainable development within the whole industrial chain.
As one of the world-renowned independent lubricant manufacturer, FUCHS Group has become the leader in the industry. The focus on product development, technologies and applications has made FUCHS Group one of the most highly recognized lubricant manufacturers globally. This partnership forebodes that FUCHS and JD.COM will jointly build high-quality Jauto lubricants and explore China's high-end lubricants market. JD.COM will also leverage its strong supply chain, system, logistics, finance and service capability as well as the "Product + Service" model to connect online and offline activities and allow high-quality Jauto products to be delivered to consumers with high efficiency.
According to Ms. Gao Xuemei, Sales Vice President of Automobile Oil Retail at FUCHS China, exploring online market is an important strategy for FUCHS China's market development and the partnership with JD.COM will strengthen FUCHS' efforts to establish a multi-dimensional sales channels. Moreover, FUCHS will leverage JD.COM's powerful service and supply chain to convey FUCHS' brand and image to end users. FUCHS will work with JD.COM to explore new partnership models to lead automobile aftermarket consumer experience upgrade.
About FUCHS
The German FUCHS Group is the largest independent lubricant manufacturer in the world. With widespread industry recognition, FUCHS provides the automotive industry with engine oil, transmission oil, shock absorber fluid, metalworking fluid (oil), and industrial equipment oil, etc. FUCHS took the opportunity of supporting the development of Chinese automotive industry, and entered the Chinese market as early as 1988. FUCHS is one of the international Lubricant companies which earliest established operations in China.
About JD.COM:
JD.COM is China's leading technology-driven e-commerce and retail infrastructure service provider. Its cutting-edge retail infrastructure allows consumers to purchase any desired merchandise anywhere and anytime. As a retail infrastructure service provider, JD.COM has opened its technology and infrastructure to partners, branders and multiple fields to drive productivity improvements and innovations in all industries. JD.COM is also included in the Nasdaq 100 Index and the Fortune Global Top 500 Companies list.