Formulating the Future: Brilliant Conclusion of the 2021 Annual Conference of FUCHS China
31.01.2021 - 11:42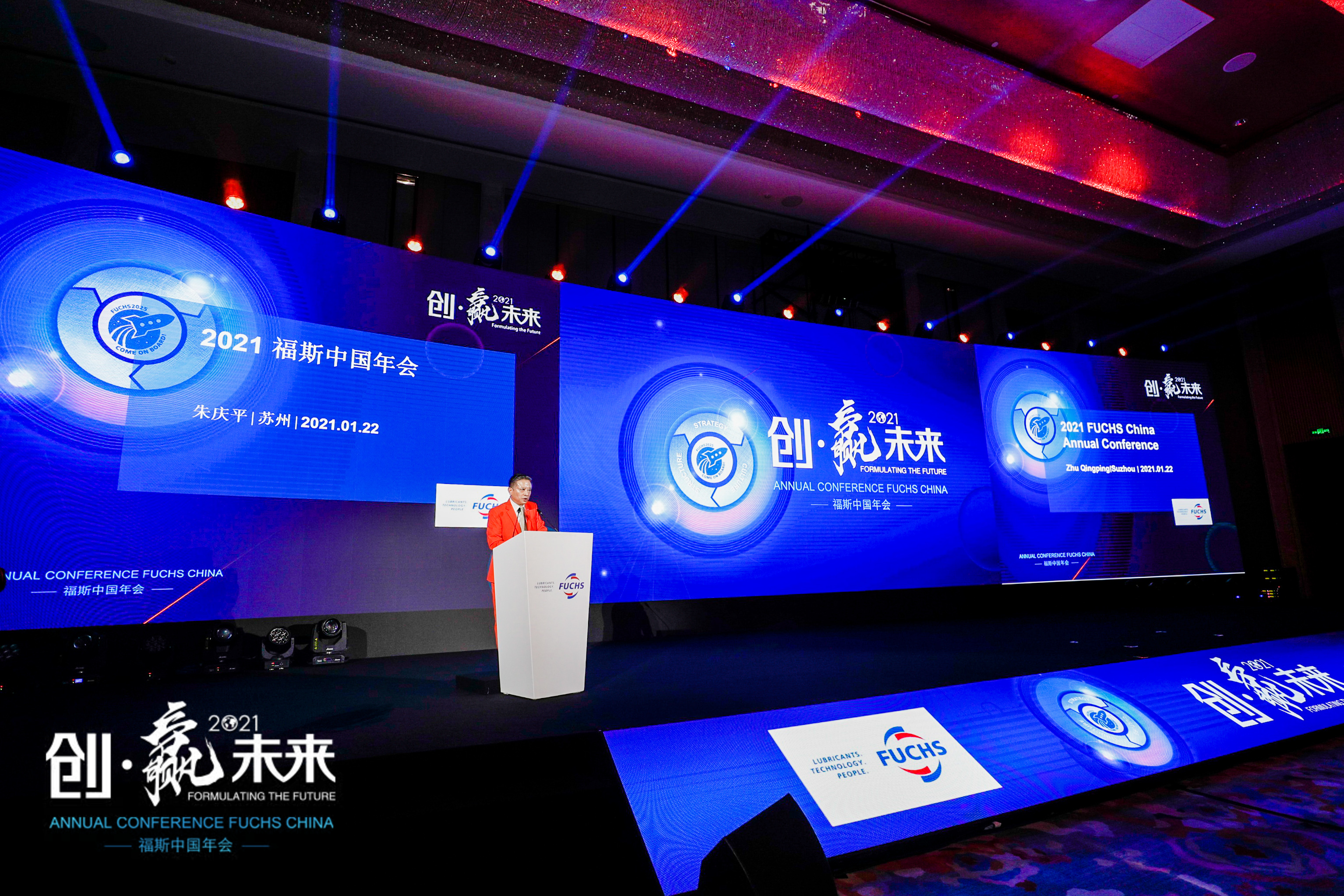 On January 22nd, 2021, "Formulating the Future": the 2021 Annual Conference of FUCHS China was held at Le Meridien Suzhou at Suzhou Bay, where nearly 400 FUCHS China employees gathered to celebrate success and envision the future for the company.
Although Mr. Stephen Fuchs, chairman of FUCHS PETROLUB SE and Dr. Timo Reister, board member of FUCHS PETROLUB SE could not come to China due to COVID-19 travel restrictions, they were "transported" to the conference hall through magic 3D hologram technology to deliver their greetings and remarks to the FUCHS employees at the annual conference on behalf of the leadership team at the FUCHS headquarters. At the conference, the two leaders expressed their recognition of the remarkable achievements of FUCHS China in the extremely challenging year of 2020, mapped out their strategic vision for FUCHS China and shared their great hope for FUCHS China in the days and years to come.
Mr. Zhu Qingping, CEO of FUCHS China welcomed FUCHS employees from all over the country and world and expressed his best wishes to those who were watching the livestreaming of the annual conference due to COVID-19 travel restrictions. Mr. Zhu looked back on the difficult start of FUCHS China in early 2020 and recognized the extraordinary efforts and transformation FUCHS China has taken to overturn the difficult situation. He stressed that the pride of being the NO. 1 in the FUCHS group is the result of every solid step FUCHS China has taken and it's the contribution of every FUCHS China employee that made this possible. Mr. Zhu expressed his gratitude to all FUCHS China employees for their contribution and hard work in the past year of 2020.
In 2021, standing at a new starting point, FUCHS China shall seize every opportunity and embrace a winning future. We emphasize a global vision, promote "Act Global" and take full advantage of the entire FUCHS group to support the growth of FUCHS China. We shall deepen "culture, structure and strategy" which is the 3 cores of the FUCHS 2025 Strategy. We shall embrace innovation and take advantage of digitalization, intelligent technology and Internet of Things to achieve upgrade across FUCHS China so as to create new value for customers and become the first choice for them.
As the year 2021 ushers in a new chapter for FUCHS China amidst new challenges and opportunities, let's join our hands, forge ahead and create another brilliant chapter in the FUCHS history!