Industrial chain oils and sprays
Nothing works in the industry without chains. Chains are the heart of machines and are essential for driving them. This is why the maintenance and lubrication of chains should not be underestimated. Special chain oils that have been specially manufactured for industrial use are particularly important. The using of chain lubricants ist very important as otherwise the chains will wear out more quickly and may also result in higher costs of operation. We at FUCHS LUBRITECH know the special features and offer the right lubricant for every chain.
---
Types of chains at a glance
Just as every machine is different from the next, the same applies to all chains. Depending on the application different types of chains are used. It is important to know which type of chain is used because this is one of the requirements for selecting the correct oil.
Driving chains, conveyor chains as well as lifting chains are mostly used in industry. The following industrial chains are popular in use:
Roller chains

Leaf chains

Silent chain

Pusher chains

Accumulator chains

Block chains

Side bow chains

Factory standard chains

Hollow pin chains

Tool magazine chains

Clip chains

Steel link chains

Bushes chains

Apron chains

Sluice chains
In addition there are various special chains and some of them are tailor-made and have to meet unique requirements.
---
Chain drives are used in these industries
Almost every manufacturing company uses chains, for example, to transport products on an assembly line or to drive machines. Many processes would not even be possible without chains. Chains are mostly used in the food and automotive industry but also in many other areas including the following plants and machines:
Continuous furnace

Press line

Spiral freezer

Film stretching line

Dryer

Conveyor system
In many industries it would be impossible to work without chains such as in the production of various goods or for building materials, pressed wood panels or insulating wool. But the production of food and vehicles also requires machinery and equipment that would be impossible to run it without chains. In all those sectors it is important to use the right chain sprays.
---
Finding the perfect chain oil - that's why the environment is essential
Since almost no industrial sector can do without chains and they also differ greatly from one another depending on their intended use it is not possible to use one and the same lubricant for all chains in the entire operation - unless, of course, you exclusively use one type of chain under the same conditions all the time.
For most all operations, however, this will be unrealistic. In the food industry, for example, ovens and freezers are required each of which places its own unique demands on the chains and therefore on the chain oil. In this case it is important that the lubricant functions properly under both hot and cold temperature conditions.
However, this is just one of many examples that show that different chains may also require different oils. Before you purchase a chain lubricant you should always ask yourself under what prevailing conditions it must operate.
Important to know: For industrial chains you cannot use just any solvent or commercial chain oils such as those used for bicycles or motorcycles. These differ considerably from the oils used in industry and have their own requirements. It is therefore important to use oils and sprays specially developed for this purpose so as not to damage the chains and in the worst case even shorten their service life.
Lubricating chains under special conditions
To ensure that you can lubricate the chains even when special conditions must be met it is important to be familiar with the environment and the application.
Make sure that the chain oil must have one of the following features:
environmentally friendly

heat resistant

cold resistant

chemical resistant

salt water resistant

high flash point

compatible with paints

good adhesion

pressure resistant

suitable for food

compatible with plastics

high corrosion protection

noise reducing

water resistant

compatible with mineral oil

strong creep properties

suitable for high speeds
Depending on the operation and type of activity, there will be other specifics that the chain oil must meet in order for you to use it. Many chain lubricants from our STABYLAN, CASSIDA CHAIN OIL and CHAIN LIFE product ranges have one or more of these characteristics.
---
Why chain lubrication is so important
It is important both to lubricate the chains regularly and to use the appropriate oil for this purpose. In both cases, failure to do so can cause the chains to wear more quickly.
In the worst case, the chain may break, which would result in a breakdown. This is not only associated with a high repair effort, but also lets the costs shoot up quickly. For this reason, a number of things must be taken into account when caring for the chain.
Lubricating chains - what should be considered?
To reduce chain wear it is particularly important to oil the chains properly. A defective chain is often not noticeable from the outside for a long time. This means that even chains that appear visually intact may in fact already be subject to wear. This can be checked via the energy consumption as this is higher with a defective chain.
As a rule industrial chains are already provided with chain oil by the manufacturer; this is also referred to as initial lubrication. However, since the chain is exposed to constant friction and various environmental influences regular relubrication is required. Here you should make sure that a chain oil is used which is intended for the chain, i.e. which matches the initial lubrication.
The lubrication itself can be done in different ways for example manually or automatically such as with the help of special nozzles.
IT IS PARTICULARLY IMPORTANT TO PAY ATTENTION TO THE FOLLOWING WHEN LUBRICATING:
Clean the chain regularly and then lubricate it in a clean and dry condition.
Use a chain oil with high creep properties. The oil must be able to penetrate into the smallest gaps, such as in the inner bearing between the pins, bushings and pivots.
Lubrication should ideally be done while the chain is running so that you can reduce friction and ensure wear protection.
It is also important that the lubricant adheres well and is not flung away even at high speeds.
Lubricating chains incorrectly - what happens then?
If you do not lubricate chains with the correct oil or lubricate them incorrectly because you do not do this regularly this can cause serious problems for the operation. It's also important that you don't just reach for any solvent, but a special chain spray or oil that has a proven lubricating effect and is intended for your specific use.
As mentioned above it is possible that such a chain is already worn out without you being able to see it from the outside. This is problematic, because then further difficulties could manifest themselves as follows:
Rapid wear:The chains have a shorter service life and therefore break early.
Impending operational failure: If the chains break, you will not be able to carry out the work as usual because the equipment can no longer be operated.
Higher energy consumption: You sometimes have higher electricity costs because an insufficiently lubricated chain consumes more energy.
Wear of other parts: Gears and the like can also break prematurely due to a chain that is not properly lubricated.
Higher maintenance costs: The chains must be checked more regularly to prevent a defect.
With the wrong or insufficient chain lubrication you are saving at the wrong end, because ultimately you will incur higher costs for example due to operational downtime. It is therefore always worthwhile to clean the chains properly and maintain them with a suitable chain oil - and not just when it is almost too late.
---
The advantages for your operation - this is how you benefit from the use of the correct chain oil
IF YOU CHOOSE THE CORRECT CHAIN OIL YOU WILL BENEFIT FROM THE FOLLOWING FEATURES:
Trouble-free operation: You can operate the systems and machines more trouble-free, as chain breakage is much less likely. This ensures operation and production.
Longer service life: The chains and many other parts do not wear out as quickly, which is why you benefit from an extended service life - your plants and machines will thank you. Because the longer the chain lasts, the less often it has to be replaced.
Lower energy consumption: By using chain oil, you can reduce power consumption, as a lubricated chain requires less energy than one that is not lubricated or not lubricated properly.
Cost savings: You can save many costs associated with the costly repair and maintenance of a defective chain. It also better prevents the threat of downtime due to broken machinery, which would otherwise result in further costs.
Lower energy consumption: If you keep oiling the chains, a smaller amount of lubricant will be needed - this is especially true if you apply the oil correctly and use the right lubricant for your chains.
Higher efficienc:: Thanks to chain lubrication, the friction behavior is optimized, which leads to higher efficiency and has an overall positive effect on your production.
Lower maintenance effort: Because you lubricate the chain regularly, the effort required for maintenance is significantly lower, which not only saves time but also costs.
It is therefore worth finding the correct chain lubricant and lubricating the chains regularly. Integrating an automatic process is the best way to ensure that the industrial chains are always optimally lubricated without having to make any major effort.
Available in different packaging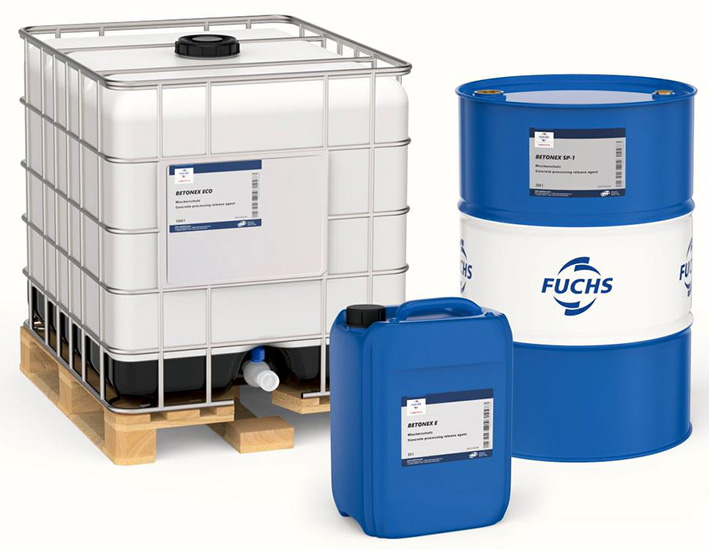 Contact
FUCHS LUBRITECH GmbH
Werner-Heisenberg-Straße 1
67661 Kaiserslautern, GERMANY
Phone: +49 6301 3206-0
Fax: +49 6301 3206-940
Email: lubritech@fuchs.com