100% lubricant management
A sustainable and economical use of lubricants is only made possible by qualified service concepts. Their systematic implementation exploits the full performance capacity of the lubricants by maximising the operating life and realising the reliable handling of these products.
FUCHS offers the full range of lubricants. The experience gained from use with many thousands of customers and the profound product knowledge in all areas are used to develop and operate efficient service systems at the highest level. They are 100% focused on the lubricant and open up a whole range of benefits and savings opportunities.
The FUCHS service matrix lists the individual modules. With this modular system, all requirements can be mapped flexibly. As a single solution or in combination. Our team will be happy to advise and find the most suitable combination for you.

Supply chain management
FUCHS Service supports all processes in the plant in which lubricants play a role. At the beginning, there are procurement, storage and logistics processes.
More than 20 years of experience in taking responsibility for purchasing and warehousing activities have led to an optimised and secure supply chain management.
As a general supplier, FUCHS Service takes responsibility for the procurement of all lubricants. Qualified employees in the team of FUCHS LUBRICANTS GERMANY handle all tasks. A central contact coordinates all issues relating to the supply of lubricants.
► Savings in effort and costs
► Savings through possible sort rationalisation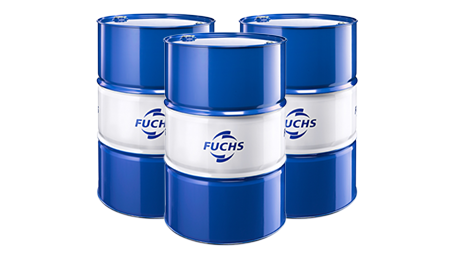 FUCHS Service relieves the plant logistics and takes over the workload for the lubricant warehouse. In combination with the general supplier module, the right lubricant is always on site and can be supplied for use. Billing is simple and clear in just one monthly invoice. As an option, the stock can be taken over completely and the warehouse can be managed as a consignment warehouse - for all lubricants.
► Process improvements through bundling of responsibilities
► Savings in costs and effort
► Fewer processes, thus saving resources
► Only one contact person, thus process optimization
► inimisation of holding costs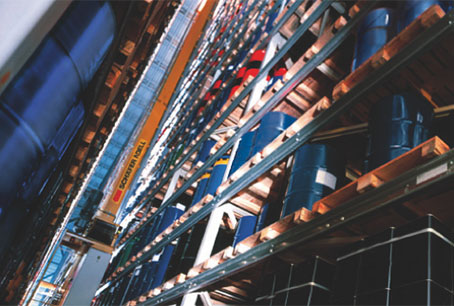 Lubricant management
Lubricant management systems from FUCHS Service combine the entire range of experience of the lubricant specialist FUCHS with service expertise from more than 20 years of carrying out FUCHS fluid management projects on site, at the customer. The resulting technically qualified service is oriented towards a long-term, sustainable development of the lubrication and all subsequent processes on site.
A qualified FUCHS Service team takes care of all lubricant-related issues at your site. The basis is an optimised lubrication service concept that is drawn up at the start of the project and is constantly reviewed and further developed. The solutions of the FUCHS service range are selected appropriately. The concept focuses 100% on the lubricant and the resulting requirements and optimisations. The outcome is a reliable, sustainable service that leaves no questions unanswered.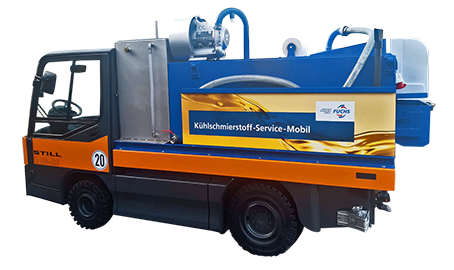 Central systems can sometimes supply entire production lines. Operator models place high demands on the companies carrying out the work. Thus, different subject areas have to be covered. From lubricant expertise to qualifications in the areas of maintenance and electrical engineering.
FUCHS Service is mastering these challenges in an excellent manner. The result is a high-quality service that securely maps this important element of the infrastructure.

Documentation
A well-founded and easy-to-use documentation solution is one of the four cornerstones of a functioning fluid management. Only in this way the large amount of data can be meaningfully mapped and evaluated. FUCHS Service offers the prerequisites with a database that has been specially developed for lubricant management.
FUCHS Service offers a database solution that is 100% focused on the handling of lubricants. The scope of services covers the following functionalities:
Complete documentation
Measured values, consumption values, activities
Warehouse management
Control of consumption and costs
Online solution, thus easy access at any time
Scan at the machine via barcode devices or mobile phone (app)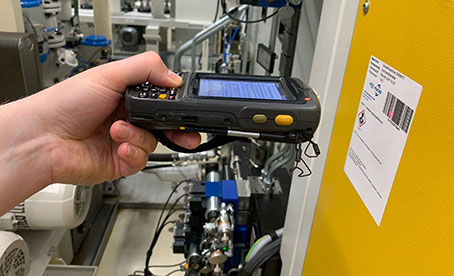 FUCHS Service works out a system of key figures for the use of lubricants in your company. This enables standardised and structured monitoring of the status and progress.
The development is transparently summarised in a monthly reporting system. Progress is tracked. Actions can be identified and initiated.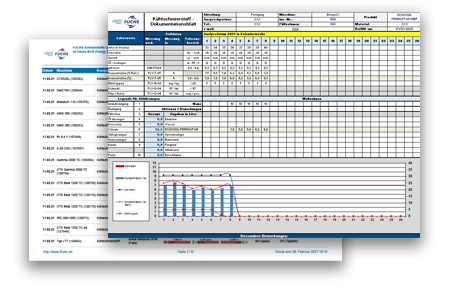 Equipment
As lubricant specialist, FUCHS is in intensive dialogue with its customers. The extensive experience we have gained in the use of lubricants is the basis for equipment solutions that we can recommend to you and that you can obtain easily and directly from us. One example is the analysis case for testing cooling lubricants.

Monitoring
The basis for many service elements is the intensive control of the media used. Monitoring solutions enable the surveillance of lubricants in use or during storage. Condition parameters or fill levels are recorded and evaluated. FUCHS Service offers a variety of modules for this purpose in order to be able to flexibly select the most suitable solution in each case and to achieve the best possible result.

Consulting
Well-founded advice and assessments of the lubrication processes are the basis of all service and optimisation concepts. A specialised application technology department brings the bundled knowledge into the process.
Our own application technology department combines the experience gained from thousands of customer applications and close cooperation with the product management departments and research and development.
In this way, lubrication processes are technically assessed in a well-founded manner, allowing problem solutions and optimisations to be developed in a focused manner.
Lubricant processes are supervised in trials and continuous use. They are monitored and controlled with the help of the monitoring solutions.
In this way, lubricant knowledge is applied where it is needed - at the lubrication point. Quality and stability are increased.
The optimisation check offers the possibility to analyse defined questions regarding the use of lubricants in a well-founded manner. The process is analysed, key figures are derived and evaluated. This results in actions with the aim of achieving optimisations.
In this way, contributions are made to sustainability and CO2 reduction, to effort and cost savings and to the improvement of TCO. Finally, safety is improved by compliance with environmental and occupational health and safety regulations.
FUCHS Service trains your employees on all important topics relating to lubricants. Basic knowledge is imparted on the properties and handling of lubricants. Across all product areas.
This contribution to improving the qualifications of your employees generates increased awareness of all lubricant topics and thus ultimately ensures greater safety in production.


Services
Single service operations at a high level ensure a sustainably secured process management. Experienced, qualified employees are deployed. So that the job is done 100% effectively.
Experienced service staff carry out media changes for you. A well-founded pre-planning is carried out according to the product and the possibilities on site. The required equipment is provided as needed. The handling is coordinated precisely with you. The availability on site is taken into account.
In this way, an optimal result is achieved and the preconditions for a long-term lifetime of the lubricant are established.
FUCHS Service supports production with a whole range of product-service combinations which, when well planned and appropriately coordinated, lead to support for the lubrication processes. These can be services for production, comprehensive project planning, monitoring product solutions and much more.
You receive everything from a single source, with an eye for the essential - simple and easy realisation.