Empowering our customers to perform more sustainably
"We empower our customers to perform more sustainably" is the guiding principle to which we are committed in the area of sustainability. We are convinced that the key to greater sustainability lies in making our company and, above all, our customers more efficient. And we are constantly amazed ourselves at the levers we can identify at our customers to realize a more sustainable performance and the potential that lies in the topic.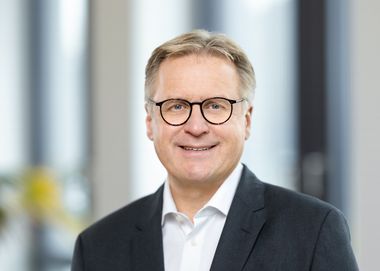 "
Our products deeply intervene in the processes of our customers. Our ambition is to make these processes more efficient and thus generate added value.
Stefan Fuchs, CEO FUCHS Group
"
Empowering you to perform more sustainably. Even where you wouldn't expect us.
With lubricant products that are optimally matched to the respective application, FUCHS increases the efficiency of its customers' production processes or applications, and contributes to reducing emissions. You will find our lubrication solutions also in the areas of wind energy, automotive or in the agriculture segment. In the household sector, be it the refrigerator, the skateboard or the air conditioning system. In the mobility sector, in highly specialized areas with very special requirements, from e-scooters to hydrogen engines, sunroofs to clutches in high-speed trains. The same applies to the areas of efficient manufacturing and medical technology, where FUCHS also provides lubricants for insulin autoinjection pens, resulting in a significant improvement in patients' perception of pain. Just a few examples of the many in which our lubrication solutions can be used, but sustainability at FUCHS means even more than that.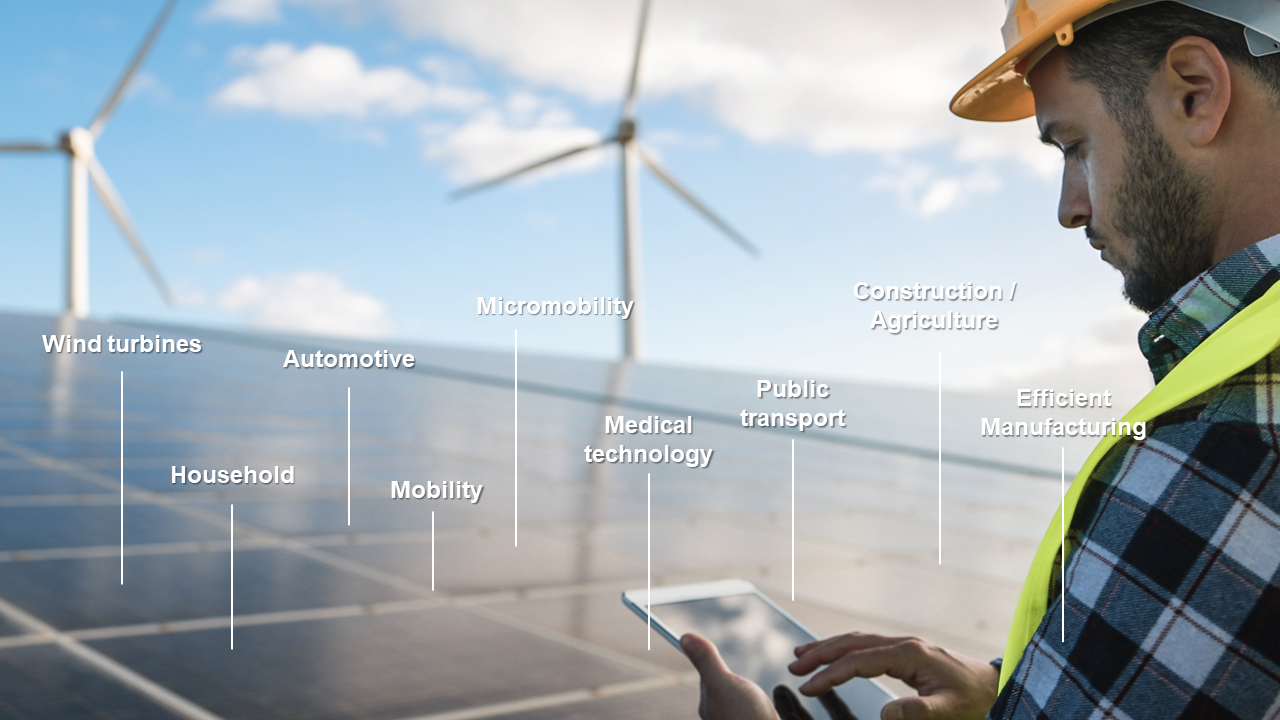 The big picture
Sweatpants, cars, dummies, coffee, packaging in any case and much more – products have to be environmentally friendly. Lubricants too. Mostly, the focus is on the CO2 balance during production, a low consumption of energy and raw materials. However, a study by FUCHS and BASF has shown that the decisive factor is a holistic analysis of the entire life cycle of a product. Three FUCHS hydraulic oils that were used for 8,000 hours in a crawler excavator were examined. The result: the simple hydraulic oil has the best CO2 footprint during production. But the more energy-intensive premium fluid scores so highly in application that it is ultimately the significantly "greener" and overall lowest-emission alternative.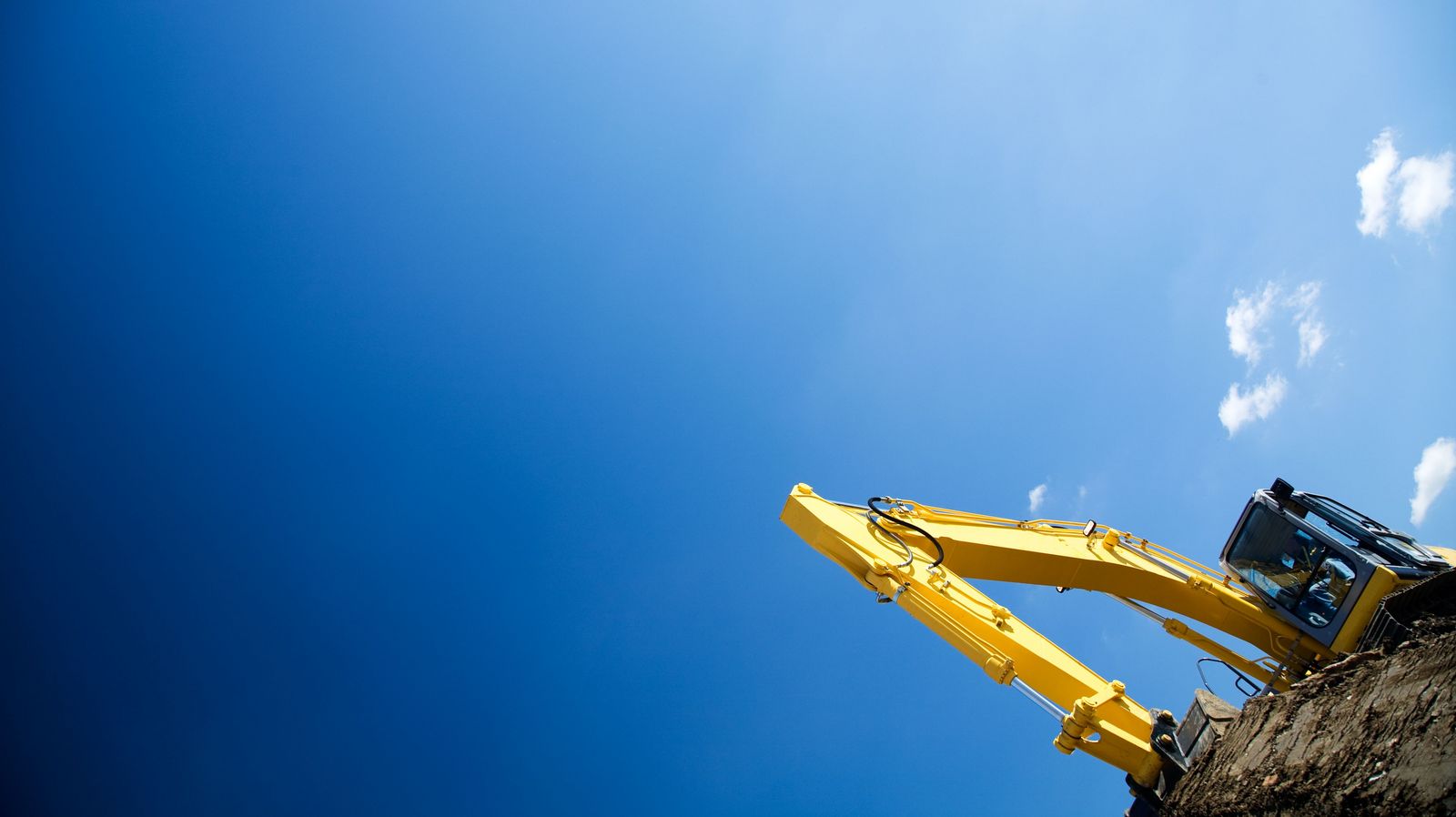 30 tons
of CO2 are saved in 8,000 operating hours when using the premium fluid. It ensures lower friction, increased pump efficiency and thus lower fuel consumption. In addition, its service life is significantly longer.
Partner with power
Good lubrication means friction reduction, which increases component life and reduces energy consumption. When our lubricant know-how meets the engineering expertise of our customers, real added value is created. One example is a joint project between FUCHS and a mechanical engineering company focusing on bearings. Thanks to the expertise of all those involved and their trusting exchange, it was possible to develop a taper roller bearing grease for regional trains that achieves several effects at once: Due to friction-reducing properties, the operating temperature and bearing wear are reduced, and the running performance in the application as well as the service life of the component are increased. Good for the user and good for the environment.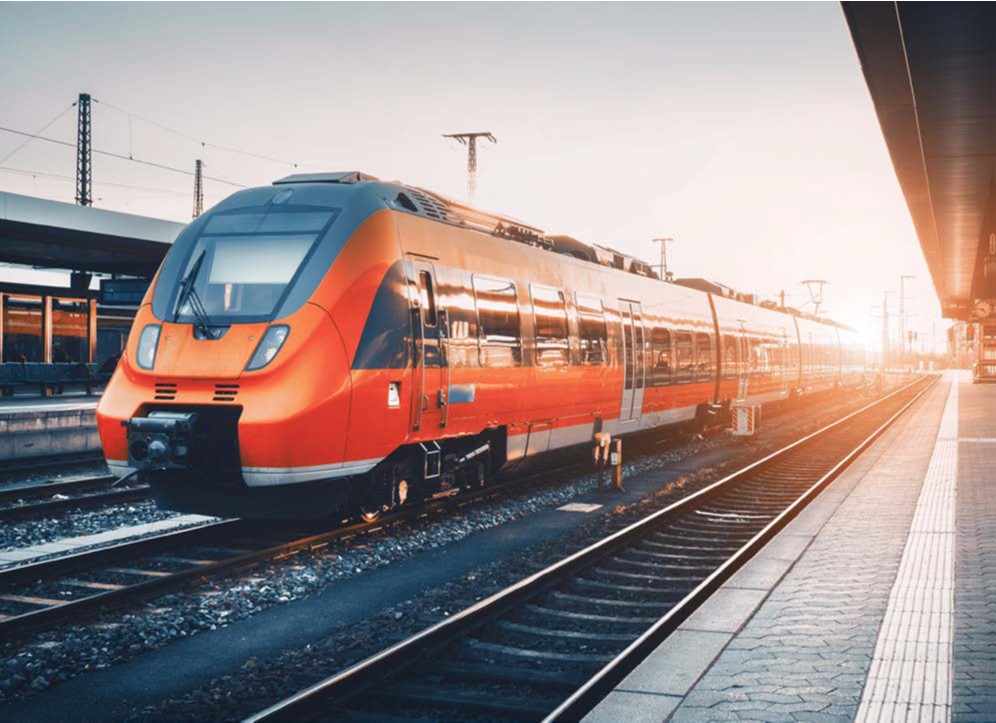 3 million km
such a regional train travels until it is overhauled. Thanks to the new grease, the bearing does not have to be replaced until this date in the best case.
Lightweight construction? Logical!
Less weight, less fuel consumption, fewer emissions –why lightweight construction is considered one of the key technologies for a sustainable future is obvious. Carbon fibre-reinforced (CFRP) and glass fibre-reinforced plastics (GFRP) are gaining in importance, especially in automotive and aircraft construction. The new A350 of our customer AIRBUS, for example, already consists of 52 % of these fibre composites. We have developed a water-miscible high-performance cooling lubricant for their wet machining. Integrating new materials into established production processes in an uncomplicated way? That's our easiest exercise.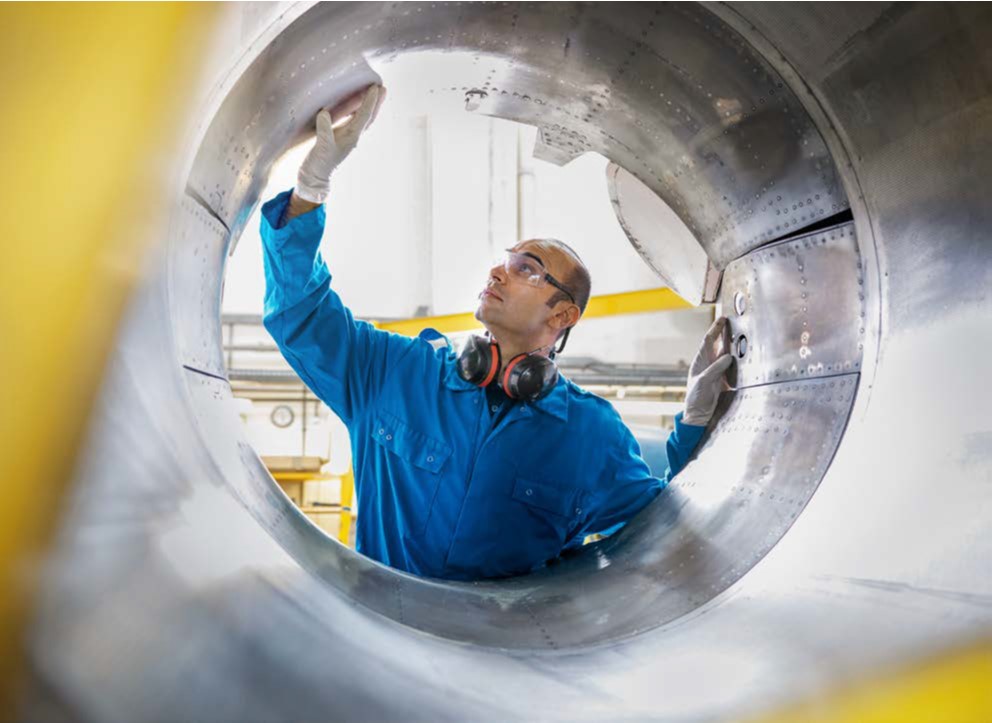 30%
less than aluminium alloys weigh CFRP and GFRP. In order to machine these innovative materials efficiently, new cooling lubricants are needed – developed by FUCHS.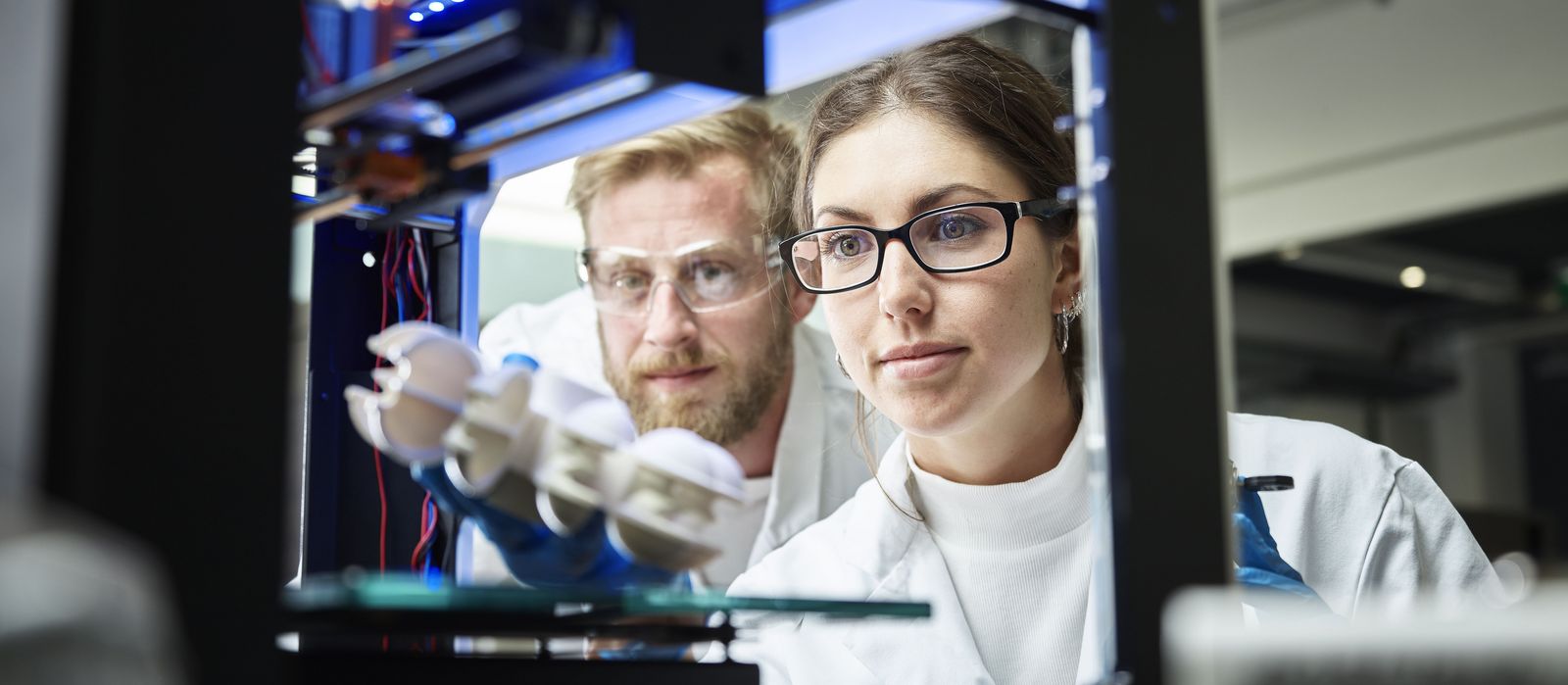 Research initiatives
Aqueous fluids that lead to significantly lower friction in various applications. Lubricants that withstand the particularly hard-working areas of the valve train in gas engines. The development of an e-engine oil for electric vehicles that not only lubricates the transmission, but also cools the e-machine and power electronics. FUCHS brings its expertise to a wide range of research initiatives with one goal in particular: to make the production of its customers more efficient and sustainable.
Smart cycles
Throwaway economy? That was yesterday. Nowadays, it is important to use materials and products for as long as possible, to repair and refurbish them. An intelligent circular economy uses less raw materials and energy and thus causes fewer CO2 emissions and less waste. This applies not only to smartphones, water bottles or T-shirts, but also to lubricants. With special services, FUCHS is increasingly supporting its customers in using them efficiently and sparingly. Through the targeted selection of renewable raw material sources, the extension of product service life and the return of used materials to the value chain, we are working on entering a sustainable circular economy. This not only protects the environment immediately but also keeps FUCHS competitive in the long term.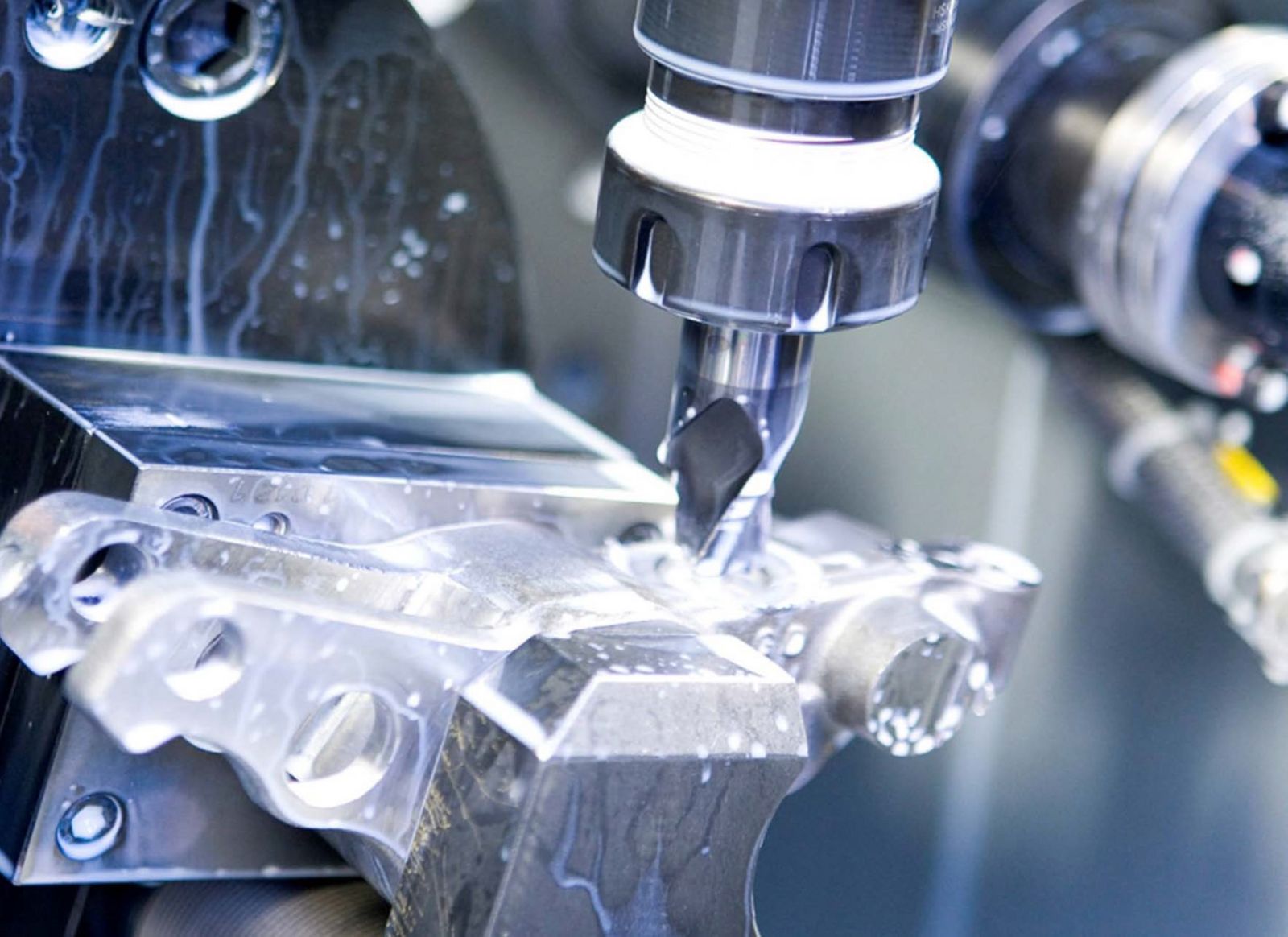 From 3% to 34%
a FUCHS customer in the automotive sector increased the proportion of recycled cooling lubricants in its production. This was made possible by an audit by the FUCHS company Zimmark, which also reduced the amount of waste and simplified the supply chain.
"
The circular economy is enormously important and must be our ultimate goal. It will change and define our future actions – I am convinced of that. We are a globally active player in the middle of the value chain and are therefore committed to working with the relevant associations as a pioneer in the development of the necessary standards. Today, we already support our customers not only in using our products as efficiently as possible, but also in returning used lubricants to the value chain.
Stefan Fuchs, CEO FUCHS Group
"
The groundwork that enables you to perform more sustainably.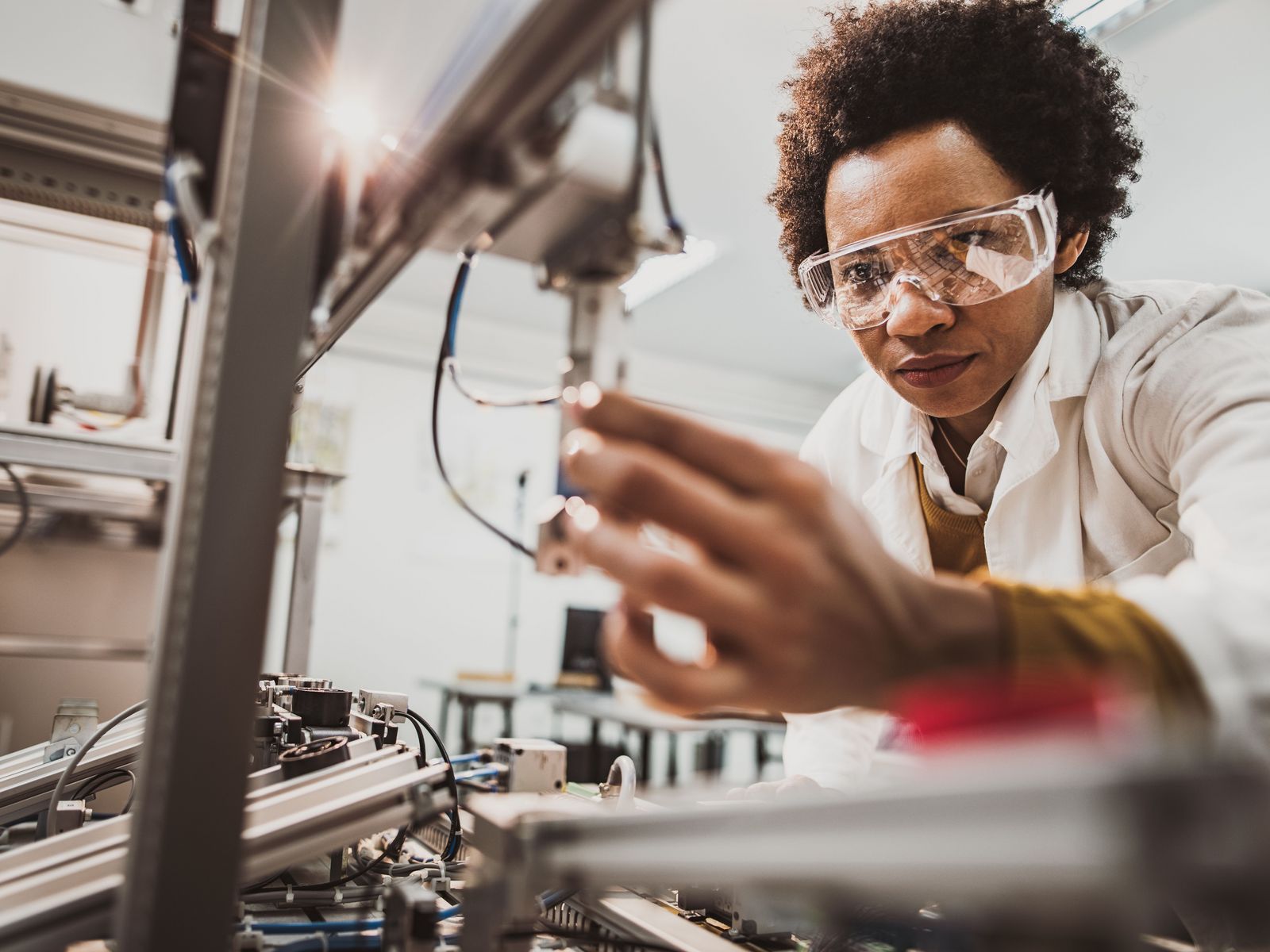 Innovative engineering for sustainable solutions
535 engineers and scientists in R&D worldwide
Laboratories in 24 countries
54 million € R&D budget group-wide
Approx. 600 R&D projects
Commitment to the extraction of sustainable raw materials and process optimization along the value chain, right through to re- and upcycling.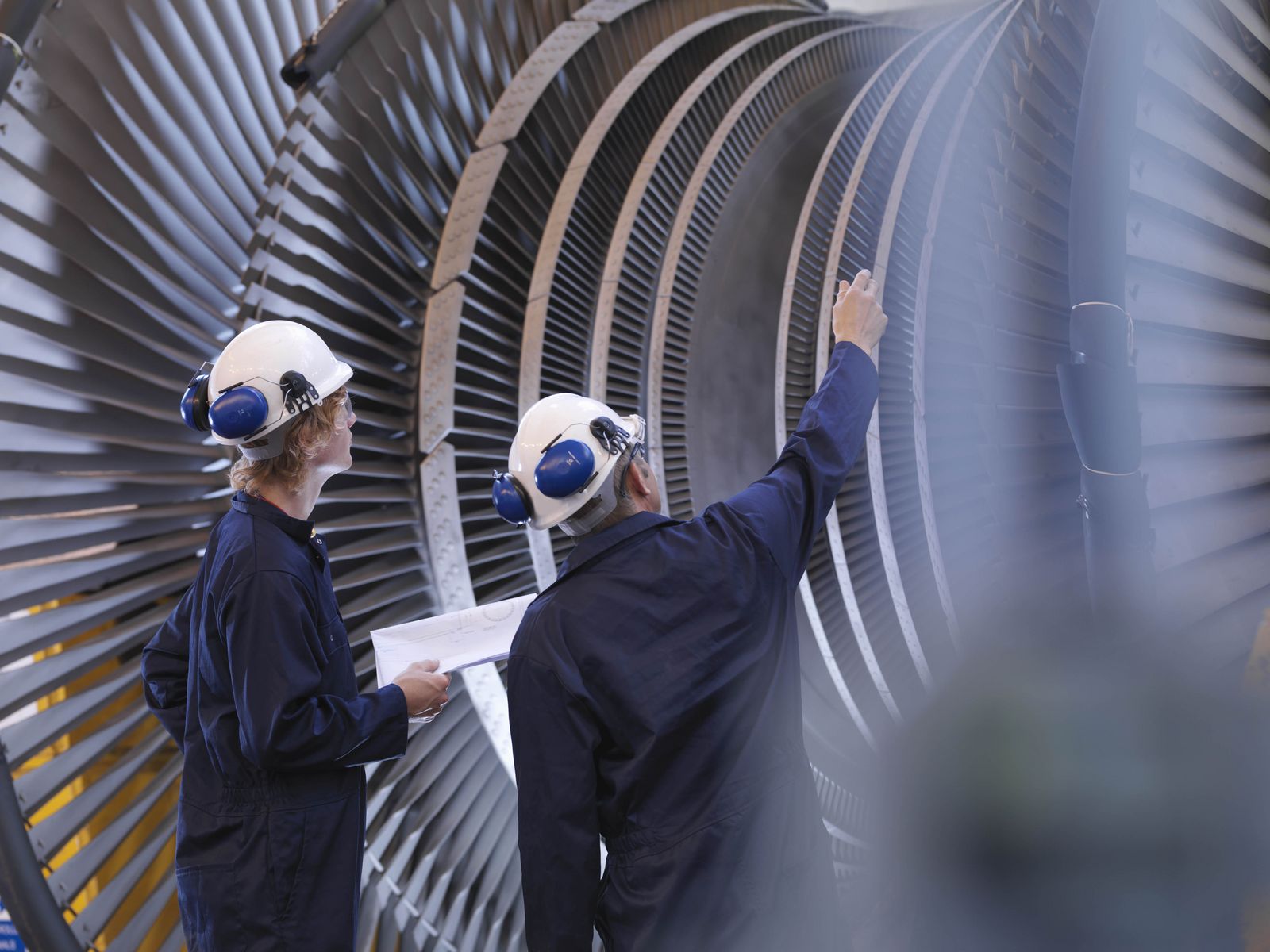 Better results through true collaboration
Earliest possible consultation with the customer
Fundamental work for precise customer understanding
Extensive laboratory, testing and simulation capabilities.
Research projects and partnerships with universities, companies and scientific institutions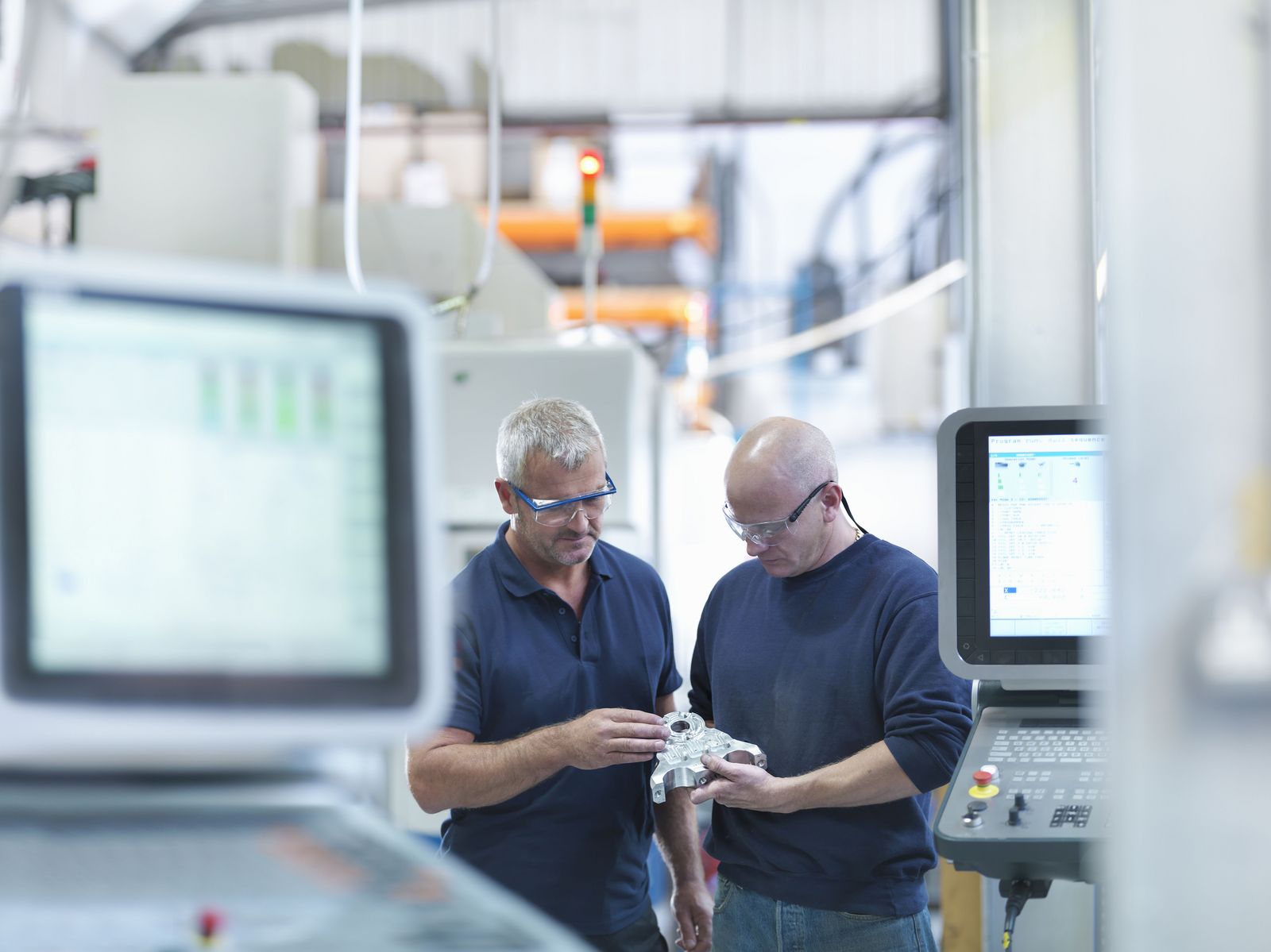 Transparency is key
Product-level carbon footprint (PCF): In-house development of reliable methodology
Focus on the entire value chain
Target definition with regular review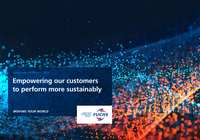 Sustainability Report
Current developments around sustainability and how FUCHS enables its customers to perform more sustainably can be found in our annually published sustainability report.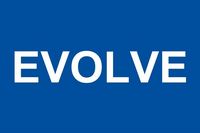 EVOLVE Magazine
More interesting insights and stories about FUCHS' sustainability can be found on our online magazine EVOLVE.
How can we move your world more sustainably?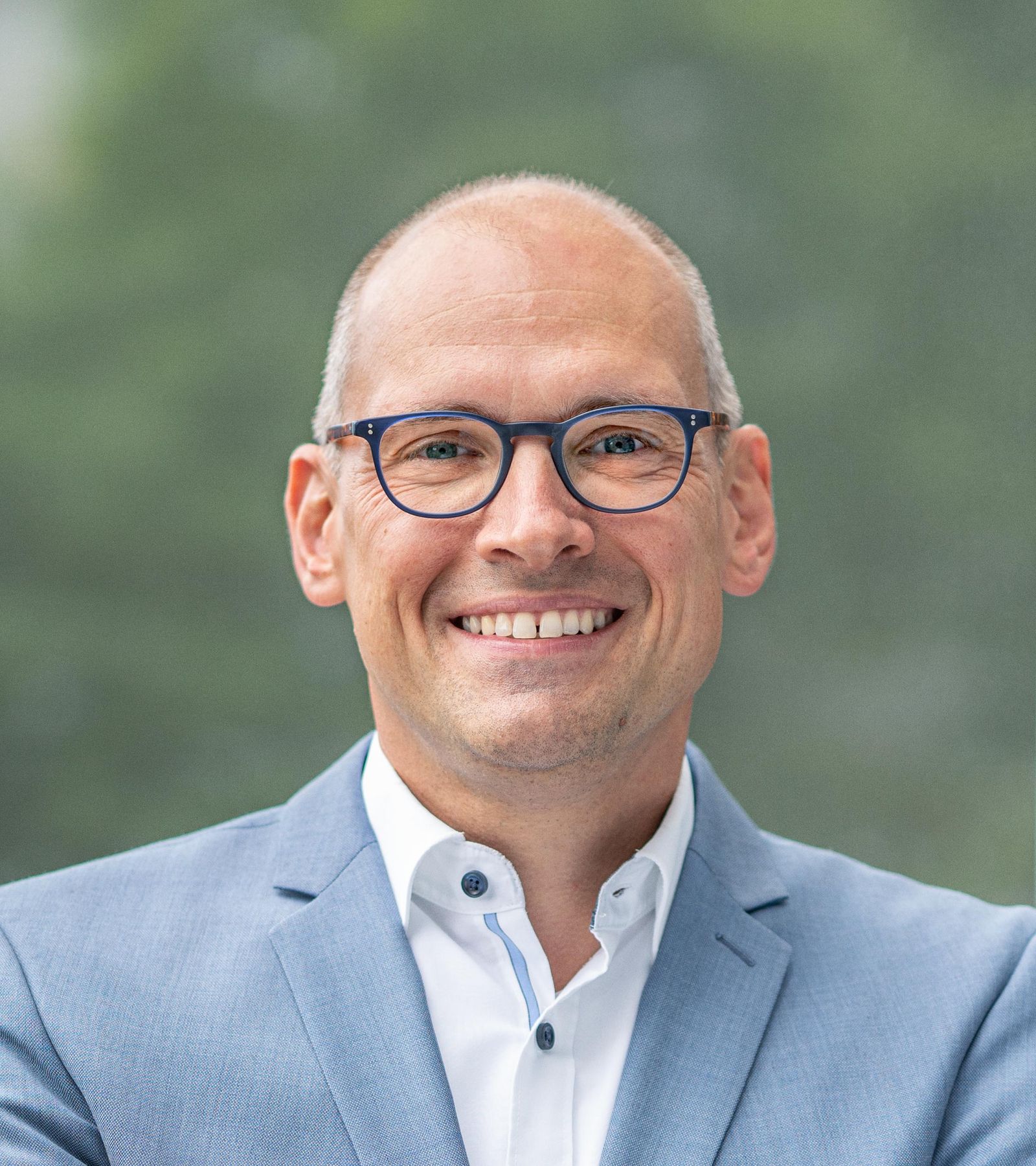 Markus Garb
Vice President Global Sustainability