Sustainability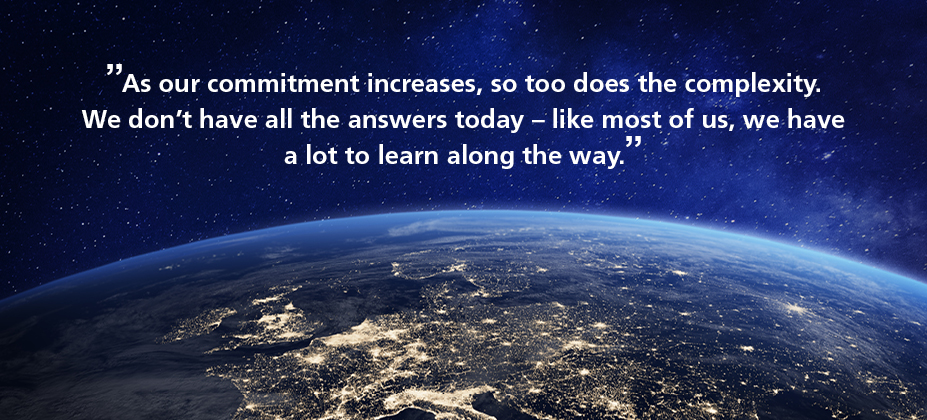 Our sustainability management
We want to create sustainable value in all our business operations – for our customers, our employees, our shareholders and the wider community. Securing a good quality of life for future generations is one of our high-priority objectives.
As our commitment to sustainability increases, so too does the complexity. What is right and wrong? Whether we're talking about the climate, gender equality or integration, there are often more questions than answers, and there are a great many different aspects to consider. We don't have all the answers today – like most of us, we have a lot to learn along the way.
We support and want to contribute to the achievement of the 17 global Sustainable Development Goals (SDGs) adopted by the 193 UN Member States in September 2015. The goals are particularly important for establishing a shared understanding of the global challenges that need tackling so as to lay the foundation for sustainable development. As a company, we are convinced that these SDGs can promote joint action and accelerate the move towards sustainability. Our products and solutions are intended to contribute to the SDGs in many ways, and because we are present on many markets around the world, we are able to support most of the 17 global goals.
Read more in our Sustainability Reports.
Reducing the environmental footprint for our customers
The job of lubricants is to counteract friction, wear and corrosion, which means that they naturally contribute to sustainability. So for us, sustainability is also linked to our ability to indirectly reduce the environmental footprint, in that our customers use products that reduce environmental impact just by being used. This is the positive impression we strive to make. We call it the "FUCHS Print".
Strategy for the entire value chain
Since 2010 we have systematically implemented and developed our strategy for increased sustainability. It encompasses the entire value chain: suppliers – our own operations – customers' use of our products.
Relevant factors that affect our environmental footprint are:
The raw materials' impact on the environment, and the resources used in connection with extraction and delivery;
Processing and blending in our lubricant plants;
Delivery of finished lubricants to our customers;
And finally in the chain, disposal of the used products.

Lubricant production is a refinement that takes place at the end of the process and value chain, which means that the direct ecological footprint of lubricant manufacture is relatively low. Our operations therefore differ from the conventional chemical industry. This does not, however, mean that we are doing nothing to reduce the footprint from our own operations. Our objective is to minimize or further reduce our use of energy and water, as well as waste volumes and carbon dioxide emissions.
The indicators we use to measure our ecological sustainability and reduce our environmental footprint are:
Energy use (kWh per tonne produced)
Water use (litres per tonne produced)
Waste production (kg per tonne produced)
CO2 emissions (kg per tonne produced)
Modern new production plant
One big step in our efforts to reduce our environmental impact here in the Nordic region is the construction of our new production plant outside Stockholm, which is set to come online in autumn 2020. It will give us brand new opportunities to reduce our climate impact in production. We have proactively chosen to keep sustainability in mind from the outset, and the potential to incorporate and prepare for solutions that are as sustainable as possible is far greater when starting and building from scratch. You can read more and see a video about our new production plant here.
Carbon neutrality in our own operations
From 2020, we are compensating for the emissions that we are currently unable to avoid. This is a global initiative for all FUCHS plants worldwide. Neutrality means zero carbon footprint from: heating, fuel consumption and energy use in production, waste and waste water, administration, research and development, energy-related emissions earlier on in the value chain, business travel, hotel nights and employee commuting. By considering all these sources of emissions, we can calculate our carbon dioxide emissions. Based on that figure, we can then invest in high-quality climate protection projects to compensate for an equivalent amount of carbon dioxide.
In the longer term, we will gradually decrease our investments in climate compensation by increasing our share of renewable energy and making our plants more and more energy-efficient. We apply a three-step principle: avoid – reduce – compensate. In that order.
Read more in our blog Climate compensation – buying our innocence? and in our CO2-Neutrality Strategy.
Aiming for completely sustainable products
So that we can offer totally sustainable products, all the raw materials we purchase must also be sustainable. This is where our main work lies – and it is in fact the hardest part since it relates to the supplier stage, which is outside of our own operations.
The raw materials we buy represent about 90% of the carbon dioxide emissions from our lubricants. Because we are the world's largest independent manufacturer of lubricants, however, we enjoy a central position in the lubricants market, and this enables us to influence the value chain further up. Our aim is to contribute to continuous improvement of ecological sustainability in the value chain by working with strategic suppliers, and only using suppliers that have the same objective.
We are currently working alongside suppliers and customers to quantify the concept of sustainability, the aim being to produce a benchmark we can use to classify our products. This classification will then serve as a foundation for research and development. In the future, sustainability will be included in the product specification for lubricants.
New collaboration models are key
We believe that new approaches to collaboration are key; we must do this together if we are to create a sustainable world. Therefore, to realize our plans, we are seeking collaborations with different market players for our entire process and value chain. We take part in various collaboration projects both within and beyond the lubricant and chemicals sectors. For example:
Since 2016 we have been part of a joint initiative alongside various German industrial companies, to establish sustainability networks in developing countries and emerging markets, coordinated by Econsense and the WZGE.
We lead a Sustainability Task Force in the UEIL (Union of the European Lubricants Industry), which was formed in late 2018 and meets with international industrial companies four times a year in Brussels.
From 2019 we officially endorse the Alliance for Development and Climate, which is run by Germany's Federal Ministry of Economic Cooperation and Development. The aim of the alliance is to protect the climate, promote sustainable development and achieve carbon neutrality by avoiding, reducing and compensating for carbon dioxide emissions.
In the area of research, we are in intensive collaboration on solutions for the future. Information about our ongoing research projects can be found on our global website.
Do you have an idea for a collaboration project, something that would take us a step closer to the sustainability goals in our sector? Please feel free to contact us.