UK Distribution
FUCHS Lubricants (UK) plc is constantly increasing the size of its 40+ vehicle fleet to further enhance its delivery and support capabilities.
Providing the right service and support is just as important as providing the right high-quality lubricants. With industry leading experience in lubrication and chemical processes, FUCHS offers its ever-increasing customer base unparalleled products and services.
The delivery service offered includes working with first class partners and is complemented by operating a bespoke bulk fleet of fully FUCHS-liveried commercial vehicles. Ranging from transit type pick-ups through to articulated units, it enables FUCHS to benefit from complete logistical control of operations with maximum flexibility to meet all customer's needs.
In addition full technical operational engineering support is provided by a dedicated team of experienced Technical and Service Support Technicians. These can be based at customer manufacturing sites with others providing regular site visits, this coverage ensures maximum support and efficiency for all UK customers.
FUCHS UK's bespoke fleet incorporates approximately 25 road going delivery vehicles plus over 20 smaller vans and cars.
The ongoing investments see FUCHS further cement itself as one of the largest oils and lubricants delivery and support fleets in the UK.
Dereham Depot - Supplying the heart of Norfolk
Targeting a requirement to service the needs of our agricultural customers, FUCHS UK also operates a depot in Dereham, Norfolk. Our Dereham trade counter combines the benefits of local service with nationwide resources, stocking a wide variety of products and brands including engine oils, greases, motorcycle oils, gear oils and food-grade lubricants.
> Visit our UK Contacts page for address and contact details
FUCHS UK now invites customers to sign-up for 'live' order delivery tracking information. Please sign-up using the form below.
On Track & Trace sign-up, customers can opt-in to receive progress notifications via:
This system allows our customers to find out about their delivery in real time, keeping them more informed which allows them to efficiently prepare for deliveries.
Automatic updates provide accurate information along each step of delivery, finishing with a digital proof of goods receipt signature.
Clear and precise feedback is given to the customer in a regular, accurate, detailed report that highlights status indicators in graphical trend format.
---
---
Desktop view
Links within the notification text messages and emails will direct you to your delivery tracker dashboard which is populated with all your delivery information. When viewed on a desktop PC all information will be shown on the same screen as shown below. A vehicle tracking map provides real-time information as to your order's current location.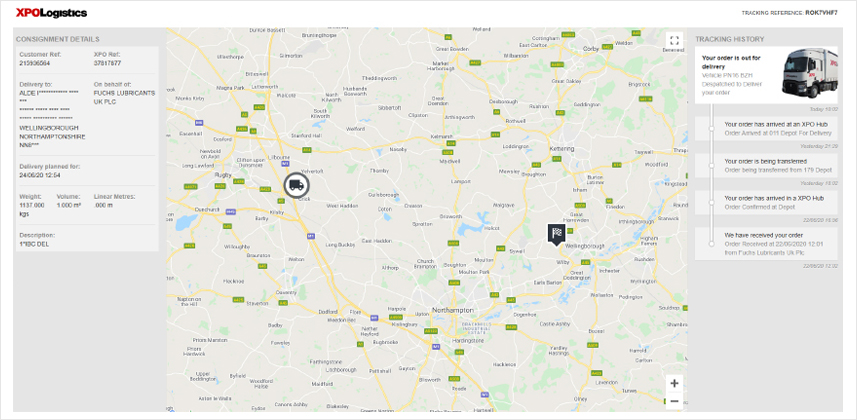 ---
Mobile/Tablet layout
Track & Trace can also be accessed using your mobile or tablet devices without restrictions to tracking functionality. As shown below, all information can be accessed within different menu options for clear data display.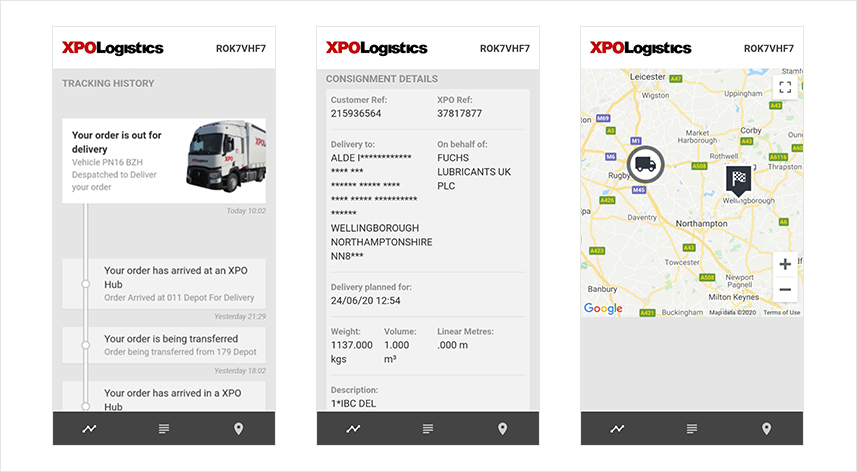 Contact Us.
Speak to our team to see what services are best suited for your needs.
> Email: contact-uk@fuchs.com
Key Information
Typical transport delivery times: 08:30 - 17:30
Premium 24hr – 48hr delivery service available for "in stock" items if ordered before 11:00*
Tracking is available for bulk & pallet orders
---