FREE Metalworking health check & advice from the experts
To arrange your FREE health check, please complete the form below and one of our team will get in touch with you.
ECOCOOL & ECOCUT cutting and grinding products, helping you to move on.
We will help you to permanently improve your workplace and avoid the damage caused by inferior chemistry:
... bad odour... split emulsion.... emulsified tramp oil... dirty machines...
When you clean your system, replace the fluid with the best.
Decrease operational costs
Reduce maintenance costs
Meet chemical restrictions
Improve work environment
Technology that pays back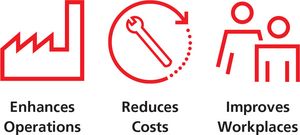 ---
ANALYSE

I

PRIORITISE

I

OPTIMISE

...

FOR FREE

*
FUCHS UK will provide a laboratory evaluation of your incumbent metalworking fluid and provide the necessary interpretation and advice in accordance with the latest UKLA Best Practice Guide*
FUCHS UK will also recommend an alternative product from their portfolio and may provide sufficient product from the ECOCOOL or ECOCUT range for one trial machine (including top-up for up to 8 weeks).
We may offer additional support with initial fill product for full machine shop conversions.
This offer is limited to availability; therefore, we urge you to register your interest ASAP to avoid disappointment.
*Up to a maximum of 3 machines.
---