Drew Bellerby Crowned Mini RallyX Champion at Croft
29.10.2019 - 10:49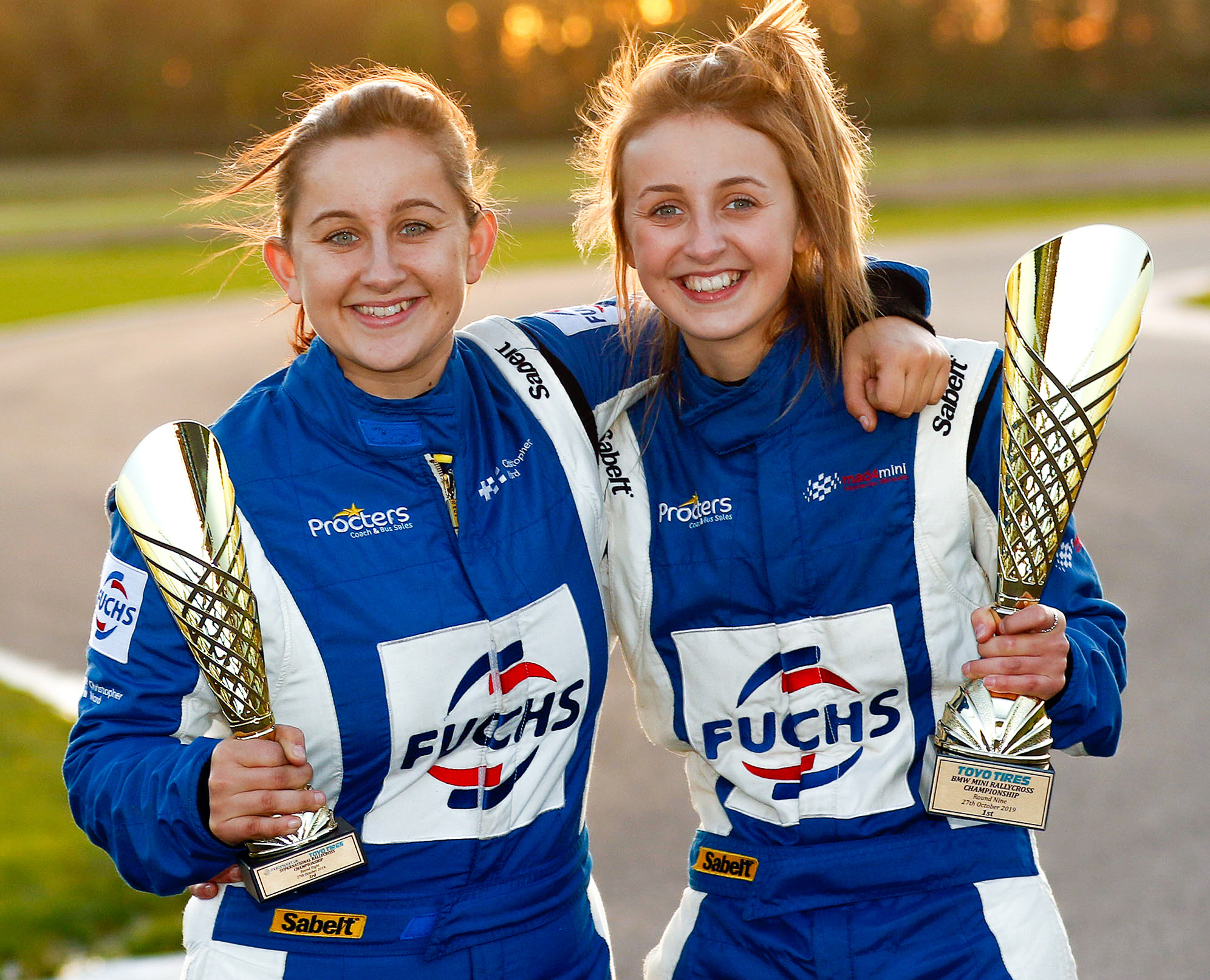 Racing hotshot Drew Bellerby has a new trophy on her mantlepiece today after securing the BMW Mini Rallycross Championship at Croft.
Drew's dreams came true as she came out on top of the ultra-competitive championship.
Drew's weekend did not get off to a great start as she could only manage a seventh-place finish in the first final.
But the Northallerton ace romped home in the second final, securing maximum points to end the season six points ahead of runner-up David Bell.
The good news didn't end there for the FUCHS Lubricants-backed Bellerby RX team.
Steve Brown, in his rookie season in the competition, crossed the line second behind Drew in the final race of the season to finish third in the championship overall.
And Drew's sister Paige was all smiles as well after securing second place overall in the Supernational Championship.
Sally Travis, marketing manager at FUCHS Lubricants, said: "We are so proud of the Sisters of Speed, Drew and Paige, and Steve as well.
"It is so good to see them achieving at this very high level of motorsport.
"Bellerby Motorsport is a fantastic team and we're delighted to have been involved the journey."
Click HERE to view our archived motorsport news articles - From January 2017.
---
"FUCHS LUBRICANTS have such a long history in motorsport, their products are the obvious choice for anyone wanting to be competitive and have reliability."
Martin Wilkinson
Team Owner, CA1 Sport.
BRC & other Rally events.
---
"In 2018 not one of our Ciceley Motorsport prepared Touring Cars suffered a DNF thanks to mechanical issues... & we have to thank FUCHS LUBRICANTS (UK) plc for that! We are more than grateful for their support this season & for giving us."
Norman Burgess.
Ciceley Motorsport, Commercial Director.
British Touring Car Championship.
---
"I have to acknowledge FUCHS Silkolene Castorene R40S oil which has kept my engines in great shape for many years now and haven't had one single engine failure which is impressive considering speedway engines work under extremely high pressure and high revs with a non-stop open throttle during the races."
Linus Sundstrom.
European Speedway.
---
"There will never be any words to say how overwhelmed I am for the amount of support that Bellerby RX have received and on behalf of me and Paige Bellerby we would like to send a huge thank you to FUCHS."
Drew Bellerby.
Bellerby RX.
British Rallycross Championship.
---
---
Our 2018 Title Winners
Leon Haslam
BSB
Paul Barrett
FUCHS LUBRICANTS MSA BHRC
Simon Tysoe
FUCHS LUBRICANTS RAC RMC
Eunan McGlinchey
British Junior Supersport
Dave Mackay
Sound of Thunder Championship
Ashleigh Morris
Scottish Mini Cooper Cup Ladies Cup
Ian Joel & graeme Wood
MSA English Rally Championship
BTRDA Rally Championship Class B13
Michael Rutter & Shaun Parker
Open Sidecar Championship
Linus Sundstrom
UK Speedway
Polish Speedway
Swedish Allsvenskan League
Steve Kershaw & Stuart Clark
British F1 Sidecar Championship
Jamie Ellwood
Caterham SigMax Championship