Drew Bellerby Crowned Mini RallyX Champion at Croft
29.10.2019 - 10:49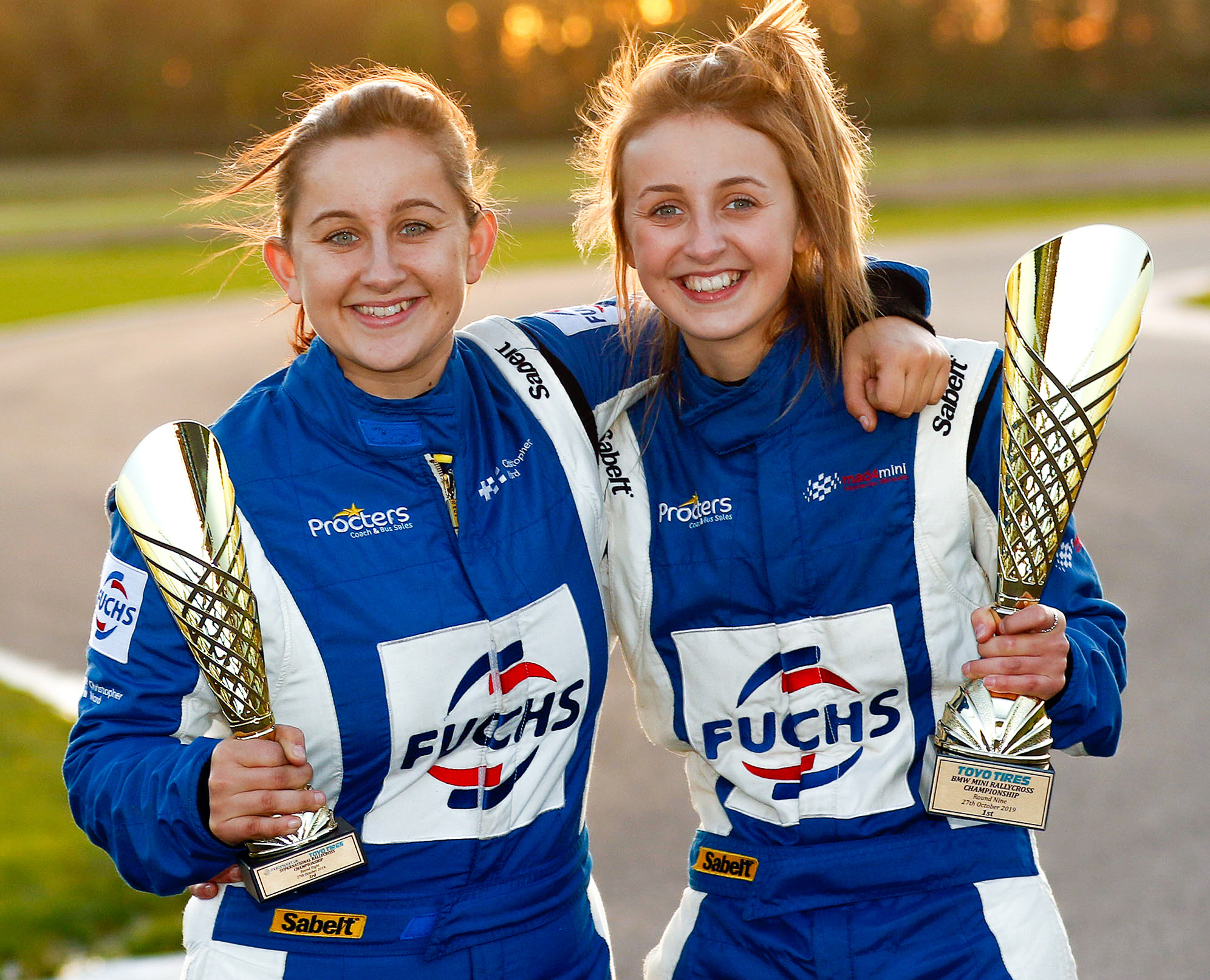 Racing hotshot Drew Bellerby has a new trophy on her mantlepiece today after securing the BMW Mini Rallycross Championship at Croft.
Drew's dreams came true as she came out on top of the ultra-competitive championship.
Drew's weekend did not get off to a great start as she could only manage a seventh-place finish in the first final.
But the Northallerton ace romped home in the second final, securing maximum points to end the season six points ahead of runner-up David Bell.
The good news didn't end there for the FUCHS Lubricants-backed Bellerby RX team.
Steve Brown, in his rookie season in the competition, crossed the line second behind Drew in the final race of the season to finish third in the championship overall.
And Drew's sister Paige was all smiles as well after securing second place overall in the Supernational Championship.
Sally Travis, marketing manager at FUCHS Lubricants, said: "We are so proud of the Sisters of Speed, Drew and Paige, and Steve as well.
"It is so good to see them achieving at this very high level of motorsport.
"Bellerby Motorsport is a fantastic team and we're delighted to have been involved the journey."
Click HERE to view our archived motorsport news articles - From January 2017.
Our 2019 Title Winners
Scott Redding
British Superbike Championship
Simon Webster & Jez Roberts
FUCHS LUBRICANTS BHRC
Peter & Chris Heatherington
FUCHS LUBRICANTS BHRC Historic Asphalt Championship
Drew Bellerby
BMW Mini British RallyX Championship
Greg Aranda
Arenacross UK Pro 450
Rick Ford & Neil McDonald
FUCHS LUBRICANTS Classic Mini Challenge
Callum Black & Michael Gilbey
FUCHS LUBRICANTS BTRDA 1400
JDM Racing
Silverstone GT40 Endurance
Royal Engineers Enduro Team
Welsh 2 Day Enduro Service Team
Ashleigh Morris
Scottish Mini Cooper Ladies Cup
Dean Harrison
IOMTT Senior TT
James Hillier
Superstock #2
Glenn Irwin
Superbike
Dean Harrison
Southern 100 Wed Senior #1
Southern 100 Wed 600cc Race A
Southern 100 Thur Senior #1
Southern 100 Thur 600cc Race A
Southern 100 Thur 600cc Challenge
Southern 100 Thur Solo Championship
CRC - Classic Racing Cars
Donington Park Historic Festival - GT3
Albi
Andy Marchant
BSMA National 35+ Vets
---
"The GT40 has once again been running a full FUCHS package and has performed faultlessly with no DNF's or technical issues. Over the last two years, FUCHS products had improved the cars performance and reliability."
Lee Bowd
Chief Mechanic, JDM Racing.
Various GT40 Events.
---
"A quality team with quality bikes needs a quality product"
Paul Bird.
Team Owner, Paul Bird Motorsport.
British Superbikes.
---
"The reliability of the engine has been great and FUCHS have given me an oil that I can rely on. The performances in the latter part of the season have been due to my confidence in the car meaning I can push harder into each corner without worrying about the engine."
Owen Loydall.
Invicta Kent Autograss championship
+ National championship