FUCHS Unveils ECOCOOL GLOBAL 20
19.03.2020 - 12:45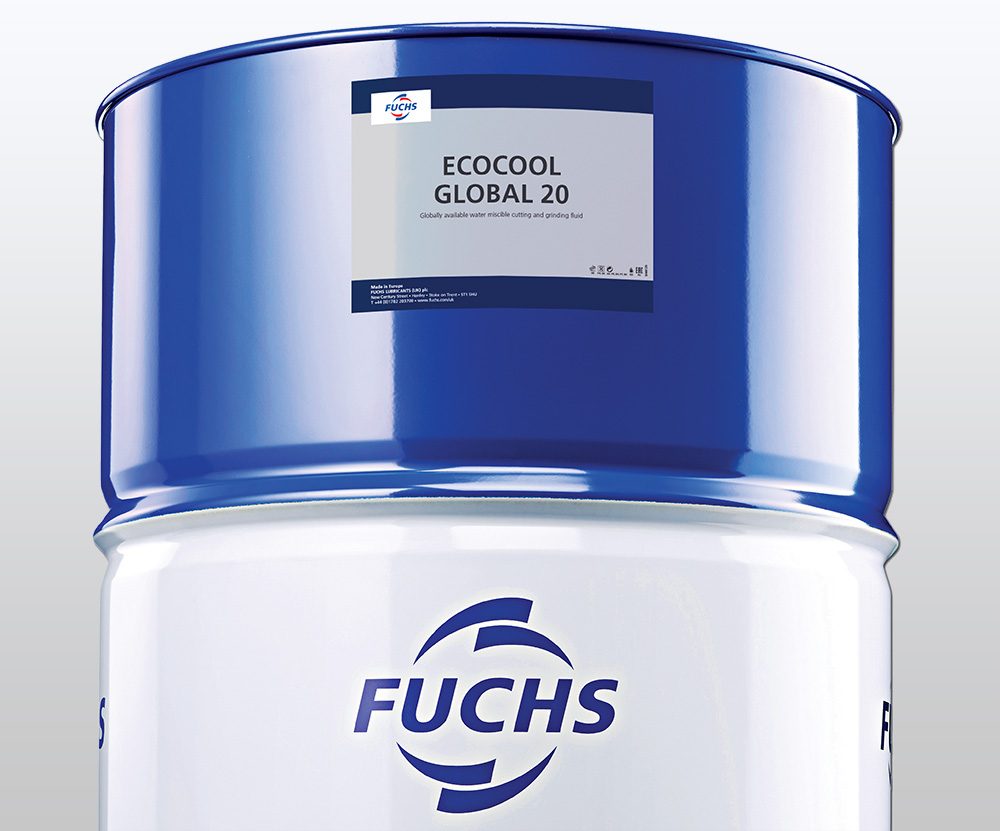 When it comes to improving tool life and performance, there are few things more important than lubrication.
Using specialist high-performance lubricants – and using them properly – has been proven to increase tool life by up to one-and-a-half times. Multiplied over many expensive tools, that can add up to a significant operational saving.
FUCHS Lubricants' water-miscible cooling lubricants in the ECOCOOL range are exceptionally durable and economical in terms of consumption.
Thanks to their excellent lubricating properties, they achieve extremely high machining and cutting performance.
There are more than 10 products in the ECOCOOL range for a variety of functions.
FUCHS has unveiled a new member of the product family, ECOCOOL GLOBAL 20. A robust, patented FAD-FREE, globally-approved water miscible cutting and grinding fluid for automotive component manufacturers.
Alex Holmes, UK Industrial Product Manager, said: "Customers have reported up to 43% reduction in tooling costs when using the latest ECOCOOL 'Global' platform with existing tooling. Greater savings can be realised when tools are optimised for the process. In other studies, tool life increases of up to 150% have been recorded.
"In the FUCHS UK R&D laboratory, cutting speeds have been increased to provide real benefits in productivity whilst maintaining excellent tool life. The rate of metal removal can also be increased. Results have indicated a 16% increase in cutting speed is possible.
"ECOCOOL GLOBAL 20 is set to be the most innovative fluid yet to be introduced into the market.
"Our experts will be on hand to discuss this new OEM-approved product as well as our comprehensive range of metalworking process fluids and services."
On top of industry-leading products, FUCHS also offers quality monitoring services thanks to the introduction of its innovative FLUIDS LIVE system.
Already utilised by more than 100 companies globally – many of which are based in the UK – FLUIDS LIVE is an easy to navigate web-based recording, tracking and reporting tool with integrated KPI measurements.
In short, the system can be the key to unlocking a successful maintenance strategy, with real time data providing immediate and remote access to data showcasing the current condition of fluids in use.
Within two hours of the collection of data under Fluids Live, information can be updated and production professionals able to make informed decisions on maintenance scheduling, production planning and other operational activities.
Alex said: "The feedback we are getting back from the customers who are utilising FLUIDS LIVE is extremely positive.
"It helps determine which machinery is working most effectively and highlights any that are not functioning to their capacity.
"We use our own internal department to design the software and produce bespoke versions for each customer, some of which can be set up in a matter of days.
"We will provide the optimum lubricants settings for operators which best suit the needs of our customers, giving real flexibility to the many different maintenance management packages available.
"The whole idea is to obtain information from measurements such as oil sampling and vibration monitoring and to ensure asset care is being maximised. It's all designed to cater for increasing skill shortages and to take the guess work away, resulting in a hugely significant saving for manufacturers.
"Using the data in the right manner will allow for improved inventory control, reduced and simplified waste management activity and accurate analysis of fluid consumption by any machine, cell or process."
For an average production facility, lubricant purchases normally amount to only 3% of a maintenance budget, but lubrication-related activities can influence an estimated 30% of total maintenance costs, highlighting how crucial this process can be.
FLUIDS LIVE is constantly evolving, with recent innovations including the development of an API to enable the live measurements to be recorded on a customer's data boards. Increasingly sophisticated recording procedures are also set to be introduced soon.
Alex added: "Another important feature of FLUIDS LIVE is that the software is portal driven, offering management teams from companies working within the same group the ability to view other site information and share best practices both locally and globally. Most software packages are sold with license fees but customers using our lubricants enjoy free use of the software, making additional savings."
FLUIDS LIVE customers are encouraged to work closely with the FUCHS Lubricants UK team to ensure trend data is best presented in a format that suits the organisation.