FREE WEBINAR: March 3rd @ 14:00 (GMT)
26.02.2021 - 12:32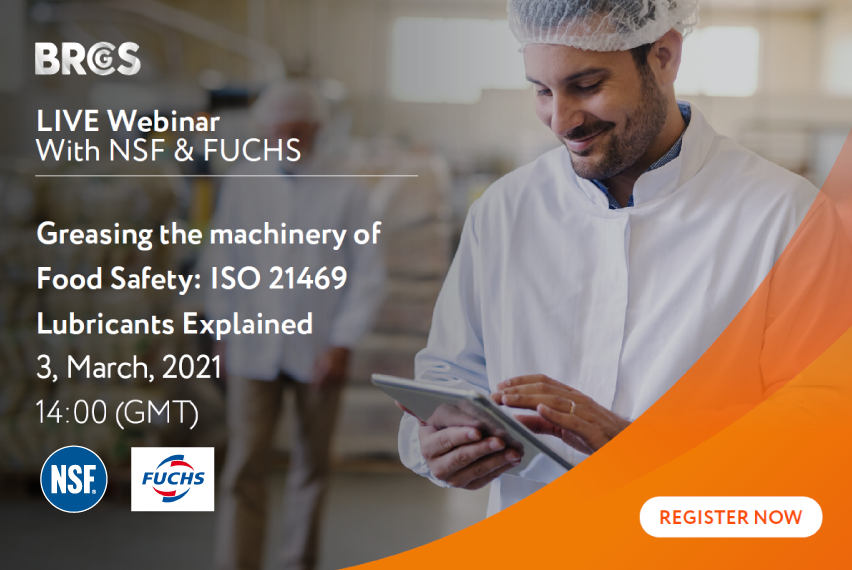 FREE WEBINAR: March 3rd @ 14:00 (GMT)
We'd like to invite you to our partnered webinar: Greasing the machinery of Food Safety: ISO 21469 Lubricants Explained.
Explore the impact the ISO 21469 can have on lubricant manufacturers and food processors-especially when it comes to food safety audits and schemes. ISO 21469 certification is a product that addresses the formulation, packaging, and manufacturing practices of lubricants used in production facilities.
Who are NSF, FUCHS, and BRCGS?
NSF International, a global Certification Body will be presenting information on certifying the chemical compounds
FUCHS Lubricants, a global manufacturer of food-grade lubricants, will give their perspective on compliance and lubrication best practices in your operations.
BRCGS, GFSI benchmarked program owner, will speak to the BRCGS standards and how lubricants and other chemical compounds are used in production, and how they may be evaluated during a food safety audit.
Here are the main goals of the webinar:
Explore the impact the ISO 21469 can have on lubricant manufacturers and food processors-especially when it comes to food safety audits and schemes
Look at ISO 21469 certification as a product that addresses the formulation, packaging, and manufacturing practices of lubricants used in production facilities.
Get a perspective from a Manufacturing Site, Certification Body, and Program owner in 1 webinar
Get your questions answered by professionals in the field to ensure you are optimising your practices
Features speakers:
Ozan Karsli - Project Manager: NSF
Raul Colombo - Key Global Account Manager: FUCHS
John Figgins - Senior Technical Manager Food: BRCGS
Orsi Deszi - Business Unit Manager - Nonfood Compounds & Food Contact Material Services: NSF
Tim Parish - UK Sales Manager for Food & Beverage Customers: FUCHS
CLICK HERE to register today